---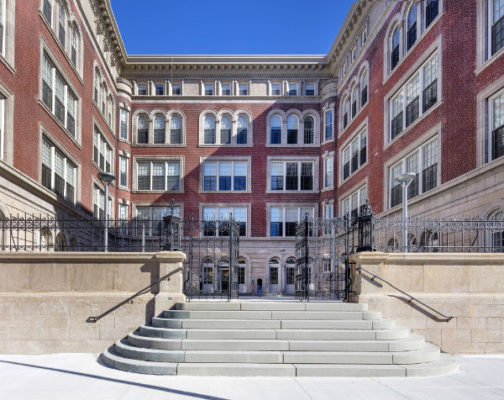 NY Curbed reports that Governor Andrew Cuomo has announced the recipients of 2017 New York State Historic Preservation Awards and sites in Harlem and Crown Heights were among the winners.
Each year, the state preservation awards are issued by the state's Office of Parks, Recreation, and Historic Preservation to "honor excellence in the protection and rejuvenation of New York's historic and cultural resources." This year's awards give special recognition to the New York State Women's Suffrage 100th Anniversary Commemoration Commission. Among the five projects recognized were the Residences at P.S. 186/and the Crown Heights North Association.
"These businesses and organizations make it clear that honoring the past is critical to revitalizing communities, preserving our culture and growing local economies," said Governor Cuomo in a press release. Here is a little more information about the city's winners:
P.S. 186 is an Italian Renaissance Revival style building that dates back to 1903 and operated as an elementary school for 72 years, with notable students like Harry Belafonte and Arthur Mitchell, who created the Dance Theater of Harlem, attending. Eventually, the building fell into disrepair, and by 1975, the city discontinued operations, leaving the school to become abandoned.
The Boys and Girls Club of Harlem purchased the building in the 1980s with plans to redevelop the building into a mixed-use facility, however, that didn't happen until fairly recently. After decades of anticipation, the transformation of the crumbling school into an apartment building for low and middle-income New Yorkers was finally unveiled in October 2016. The rehabilitated building features 79 apartments as well as a new 11,000-square-foot Boys & Girls clubhouse.
Read the entire article that includes Crown Heights here
Related Articles
---