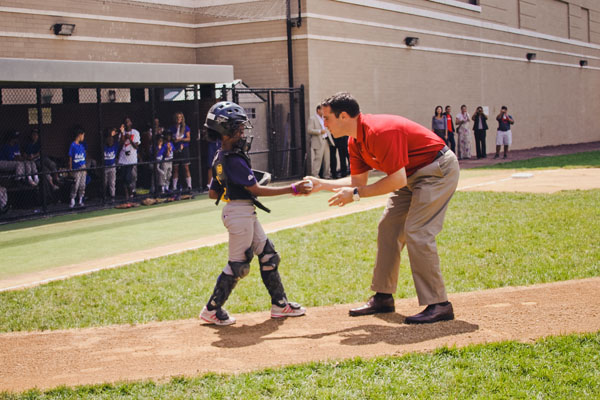 Through a unique partnership with CBS EcoMedia's WellnessAd program, UnitedHealthcare is funding sports and academic nonprofit Harlem RBI's REAL Kids summer program, which provides youth with comprehensive cognitive, enrichment, health and wellness, and sports activities designed to build literacy, social and emotional skills as well as to improve young people's health and fitness.
To celebrate the partnership, UnitedHealthcare officials will participate today in Harlem RBI's annual Championship Day street festival.
The street festival, where volunteers from UnitedHealthcare will staff carnival booths and monitor activities, will include face painting, a dunk tank, food trucks, carnival games and more.  Michael McGuire, CEO of UnitedHealthcare of New York, will throw out the first pitch for the Jackie Robinson 5th Grade Championship baseball game.
"UnitedHealthcare is partnering with Harlem RBI and its REAL Kids program to inspire children to participate in healthy activities and make good food choices – two habits that can last a lifetime," said McGuire.
The REAL Kids program provides age-appropriate nutrition and fitness education to children in East Harlem and the South Bronx. In both East Harlem and the South Bronx, where more than a third of elementary school children are overweight or obese, activity and nutrition specialists will partner to implement nutrition education curriculums.
Harlem RBI's youth fitness programming will also benefit from UnitedHealthcare's backing, which will provide field supervisors and new baseball and softball uniforms for more than 1,300 youth participants.
"We are so thankful to have UnitedHealthcare support REAL Kids, which is our biggest program. Its support will enable us to better serve our kids with high-quality health and wellness education," said Rich Berlin, Executive Director of Harlem RBI. "Our relationships with CBS EcoMedia and UnitedHealthcare allow us to have a greater impact on the communities we serve in both East Harlem and the South Bronx, and we are looking forward to growing these partnerships in the years to come."
"We are grateful to UnitedHealthcare's commitment to health and well-being, and for all the positive contributions it makes in our communities," said Paul Polizzotto, President and Founder of CBS EcoMedia. "Thanks to this generous support of the REAL Kids program, more than a thousand young people in East Harlem and the South Bronx will have the opportunity to participate in nutrition education and fitness programming."
This project is the latest in UnitedHealthcare's "Do Good. Live Well." employee volunteer initiative, whose mission is to inspire service and encourage volunteerism. For more information about the benefits of volunteering and to find local opportunities to get involved, visit www.DoGoodLiveWell.org. Follow @DoGoodLiveWell on Twitter or "like" Do Good. Live Well. on Facebook.
Related Articles
---