---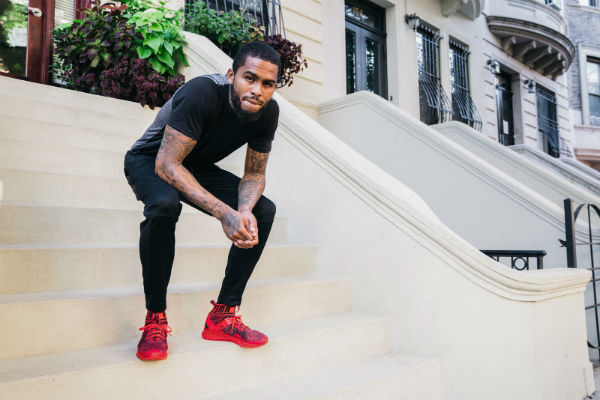 Rolling Stones reports that Harlem man Dave East may be the least likely member of New York's new rap aristocracy to conquer the charts. The East Harlem native's peers, like Nicki Minaj, Cardi B, French Montana and A$AP Rocky, all crested via genre-blending songs that blur the line between electronic pop and clubby trap anthems and boast hooky, unforgettable choruses. By contrast, Dave East hearkens to the height of Rotten Apple rap, a Nineties aesthetic of grizzled street themes, thug bravado and, as J Cole once put it, "when you could get a platinum plaque without no melody."
Still, that didn't keep the 29-year-old rapper's debut project for Def Jam Records, Paranoia: A True Story, from landing at Number Nine on the Billboard charts upon its August release. It's his second Top 40 release; last year, his mixtape Kairi Channel, which he named after his newborn daughter, peaked at number 38. Dave East's career has soared despite little attention from urban pop radio. Instead, East has earned cosigns from hip-hop OGs – including Nas, who signed him to Mass Appeal Records. His biggest smash so far may be "Wrote My Way Out," a gritty, piano-inflected track he recorded with Nas, Aloe Blacc and Lin-Manuel Miranda for the chart-topping Hamilton Mixtape. He has also hit the studio with Lil Uzi Vert, Drake, Emeli Sande, and Trey Songz.
"You're going to hear a lot more artists that are actually rapping, that's actually focused on their lyrics, from New York City," East tells Rolling Stone during a recent phone interview. He's rumored to be dropping a sequel, Paranoia 2, sometime in the next few months.
East hasn't been entirely absent from online rap chatter. He polished his acting chops on Gabrielle Union's soapy, smart BET drama Being Mary Jane, and his 1.3 million Instagram followers often speculate on his personal life. Yet, contrary to recent trends, Paranoia eschews melodramatic pop crooning in favor of reflective, nuanced rhymes. And it's stitched together with the kind of old-school, hilariously unfunny skits that were widely used during hip-hop's golden era.
"Nobody uses skits at all anymore, so it seems like I use a lot," he says, adding that they helped shape Paranoia into a fully-fledged album with a conceptual framework, not just an assemblage of demos and would-be singles. "That's how I grew up on tapes. Biggie tapes, Biggie albums would have skits. The Lox would have skits. Mase would have skits. All the dudes I grew up on in Nineties rap would have skits on their projects, just to make you feel like you were right there with them."
East launched his rap career after a tumultuous childhood and adolescence as an elite basketball player. While attending high school in Maryland, he excelled in AAU tournaments, where he faced off against future NBA stars like Kevin Durant and Ty Lawson. But after stints at the University of Richmond and Towson University, he "was running around in the streets," and was eventually imprisoned for six months, where he submitted himself to Islam. "It's a balance. Nobody's perfect," he says. "When I'm out of town, I always try to get some readings or some type of new information to where I'm learning more about Islam, just to become the best Muslim I can become."
Beginning with his debut mixtape, Change of Plans, East has lyrically documented his life. He spends plenty of time on his ascent from thug to a rap star who trades bars with Rick Ross and Jeezy. But he's also introspective, particularly on Paranoia's "Wanna Be Me," where he admits, "Wish I was closer with my nephew, so much to show my niece/Trying to make way, don't go shopping, this nigga know he cheap/Trying to learn the music industry the way I know the streets."
"Growing up in Harlem, growing up in Queens, living in Baltimore, being locked up, going to college, playing ball, trying to sell weed, then trying to rap. I've just been through a lot in 29 years, so I got a lot to talk about," he says. "I always tell people, I never get writer's block because it's coming straight from my brain, like, real-life experiences. I'm like the news. I'm just reporting it for myself."
---