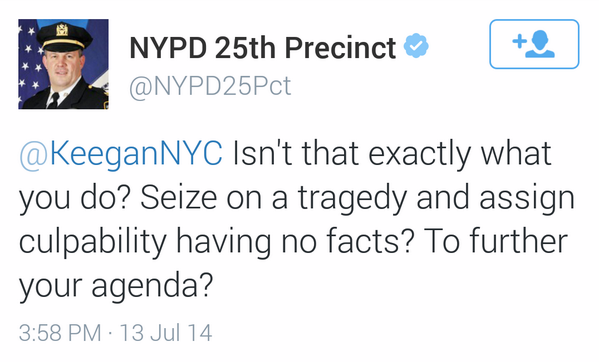 Gothamist reports that NYPD officials will have a hard time explaining why one of it's commanding officers used Twitter to blast activists in the case of a young woman who died in a subway accident. The leading cop at Harlem's 25th Precinct posted a tasteless tweet that essentially targeted the victim and taunted a group hoping to prevent such tragedies.
Captain Thomas Harnisch tweeted from his personal account a story of the death of 21-year-old Aracelis Ayuso who was struck by a 4 train Saturday. Harnisch tweeted, "Let me guess, driver's fault right?" to the Transportation Alternatives group and activist Keegan Stephan in now deleted post. Stephan, taken aback by the dig, replied, "A woman is dead and you are using this as an opportunity to criticize our attempts to save lives?"
Harnisch, who probably doesn't switch his Twitter accounts from personal to professional that well, tweeted from the NYPD 25th Precinct account this gem, "Isn't that what you do? Seize on a tragedy and assign culpability having no facts? To further your agenda?"
The tweets from the precinct's accounts have since been deleted but not before Stephan got a screenshot of the tweet, which you can view below along with an apology from Harnisch, on the following pages.
Related Articles
---
---