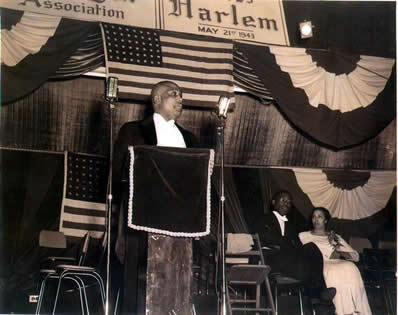 The Harlem Neighborhoods Association (HANA) was launched in 1937 as the West Harlem Council of Social Agencies. Its mission was to serve as a clearinghouse for various social agencies operating in Harlem. Membership included churches and schools, community groups, social agencies and individuals. The organization began with an informal group of social service professionals which met in 1934 to deal with relief problems caused by the Depression. The West Harlem Council of Social Agencies James H. Robinson who served as chairman, gained affiliation with the Welfare and Health Council of New York City in the early 1940s, and subsequently changed its name to the Central Harlem Council for Community Planning. Its board of Directors included officers and administrators of local schools, libraries, hospitals, banks, welfare and youth organizations, child care centers, and local branches of the Urban League, the Salvation Army, the American Red Cross and the Office of the Commonwealth of Puerto Rico. The Council had a paid staff which included an executive secretary, the Council's long time chairpersons, Harriet Ida Pickens and Mildred Fisher, respectively, several committees.
The Welfare and Health Council was reorganized into the Community Council of Greater New York in 1956, and ended its affiliation and funding programs with regional councils. As a result, the Central Harlem Council discontinued its exclusive relationship with social agencies and became a community and social planning group, with a new emphasis on grassroots participation. A membership drive was launched to enlist local community groups and individuals. A Founding Community Meeting was held in 1959 and the organization renamed itself the Harlem Neighborhoods Association (HANA). The new group received partial operating funds, as well as office space and some staffing, from the Community Services Society, a former member of the Central Harlem Council. HANA attracted more than 150 individual members and some twenty-four agencies during its first year of existence. For the next fifteen years, it organized public campaigns in Harlem around such issues as drug prevention and rehabilitation, housing renovation and preservation, community control in the area's public schools, better day care facilities for children, and health and youth services. HANA was one of the initial sponsors of "Harlem Youth Day" and the Haryou-Act project during the 1960s, and was instrumental in setting up a mental health clinic at Harlem Hospital. The organization lost its momentum in the late 1960s due partly to funding difficulties, and faded out of existence after 1976.
Photo from the Arthur Madison at his Neighborhood Association meeting in Harlem, May 21st, 1943, New York. From the archives of the The Harlem Neighborhoods Association (HANA) at the Schomberg Center for Research in Harlem, New York. 
Related Articles