---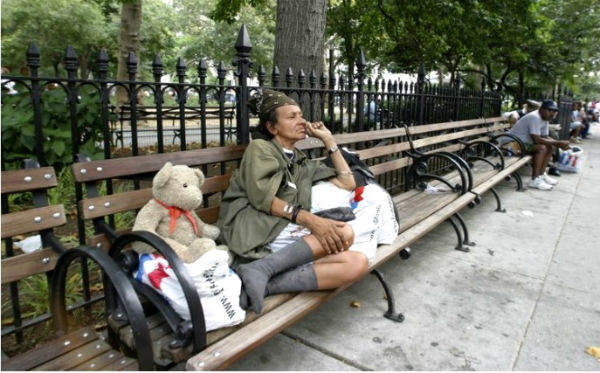 We can see the effects in Harlem, homelessness in New York City rose by 4.1% in 2017 overall, one of the bigger increases in the U.S., according to a federal report released Wednesday.
"New York City is one of the most expensive and constrained housing markets in the nation, and the numbers released today reflect that reality," said Lynne Patton, regional administrator for the Department of Housing and Urban Development in New York and New Jersey.
She said HUD is "working closely with partners across the city to implement the housing strategies needed to overcome this extraordinary challenge."
Related: More than one-quarter of the citywide increase in family shelter entry between FY 2012 and FY 2015 can be traced back to six of New York City's 59 neighborhoods—Mott Haven, Morrisania, East Harlem, Brownsville, East Flatbush, and East New York.
The number of people living on the street in New York City rose sharply to 3,936 in 2017 from 2,838 in 2016—a 38.7% increase, according to the report.
Those living in shelters in the city rose more modestly, to 72,565 in 2017 from 70,685 in 2016, a 2.7% increase, HUD said, noting that it counts people staying city-run and non city-run shelters.
"These numbers are consistent with what we've been combating and what we've forecasted as a big part of an affordability crisis that has spared no corner of the country," said Jaclyn Rothenberg, a spokeswoman for New York City Mayor Bill de Blasio. "That's why the mayor put forward an aggressive affordable-housing plan and a realistic shelter plan."
New York City has experienced record homelessness in recent years as tens of thousands of low-income residents struggle to find affordable housing amid surging rents.
Mr. de Blasio, a Democrat who came to office in 2014 promising to attack rising income inequality, laid out a plan earlier this year to build 90 new shelters across the city during the next five years. The budget for the Department or Homeless Services has nearly doubled during Mr. de Blasio's tenure, to about $888 million this year.
The HUD figures on street homelessness in New York City are drawn from the HOPE Count, an annual survey of the number of people living on the city's streets. Some homeless advocates and others have criticized the count for being unscientific because it gives a snapshot of a single day and occurs in the winter when more people are likely to seek temporary housing at a shelter.
Photo by Walter Rutledge. Via source.
Related Articles
---