---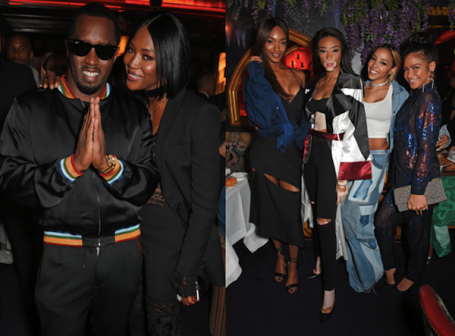 Sean "Diddy" Combs and Naomi Campbell brought his new documentary from Live Nation Productions, Can't Stop Won't Stop: A Bad Boy Story, to London for a special screening at the Curzon in Mayfair.
Fresh from the success of the world premiere at the 16th Annual Tribeca Film Festival, Sean "Diddy" Combs and Naomi Campbell were joined by Cassie, Bozoma Saint John, Jourdan Dunn, Salma Hayek, Lupita Nyong'o, Winnie Harlow, Poppy Delevingne, Karen Elson, Tinashe, Nick Grimshaw, Dean & Dan Caten, Alesha Dixon, Alice Dellal, Tamara Beckwith, Nellee Hooper, Skin, Clara Amfo, Reggie Yates, Goldie, Jay Jopling, Slick Woods and Eric Underwood for the evening.
Following the preview, Sean "Diddy" Combs and Naomi Campbell co-hosted an exclusive dinner at Loulou's where guests dined on smoked salmon followed by roast poussin, wild mushrooms and Madeira sauce, with apple sorbet, fruit salad and chocolate for dessert. Platinum Paloma's with DeLeón Tequila and CÎROC Driver cocktails flowed as guests partied into the early hours with DJ Magnum.
Can't Stop Won't Stop: A Bad Boy Story, produced by Sean "Diddy" Combs, and Heather Parry, alongside executive producers Michael Rapino, Andre Harrell and Alex Avant, explores the passion and personalities of Bad Boy and will be released exclusively on Apple Music on June 25.
Directed by Daniel Kaufman, Can't Stop Won't Stop: A Bad Boy Story is an exclusive look behind the scenes at the history of Bad Boy through a complex portrait of the label's mastermind, Sean "Diddy" Combs, as he tries to reunite his Bad Boy Family in the course of a frantic three week rehearsal period. As they prepare to celebrate the label's 20th anniversary, the film traces Bad Boy's emergence in Harlem and Brooklyn, follows it's meteoric rise, explores the tragic killing of Biggie Smalls, and celebrates Bad Boy's influence in reshaping music, fashion, marketing and culture.
"I knew this was a story that should be shared with the world. Heather Parry and Live Nation Productions, and Director Daniel Kaufman, helped create this very special documentary," says Sean Combs on the making of the film. "Now I'm blessed to also be working with Apple Music to showcase the film and share Bad Boy's history and impact with fans. The support Live Nation, Apple Music and everyone on the team has given to this project is a true testament to the Bad Boy legacy."
Photo credit: A-LIST: Diddy, Naomi Campbell, Jourdan Dunn, Winnie Harlow, Tinashe and Cassie. Via source.
---