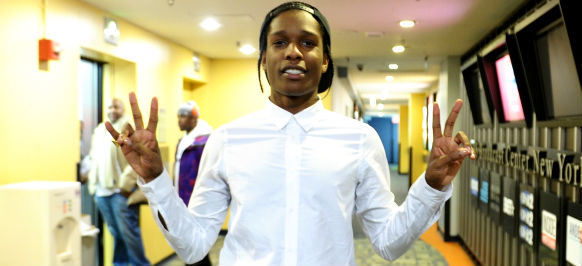 Though Harlem rapper A$AP Rocky is just 25 years old and has only a single album to his name (2013's Long. Live. A$AP), he's apparently done enough during his short career to warrant a documentary about his life and rise to fame. The documentary is titled SVDDXNLY and has been helmed by Noisey, who released the film's trailer today, which you can watch below. Noisey also released a statement about the film.
The statement reads:
"Through extensive interviews with the A$AP Mob and their friends and families, SVDDXNLY gives viewers an in-depth, candid look at the lives and careers of rapper A$AP Rocky and the A$AP Mob, documenting Rocky's journey out of Harlem and into the spotlight.

SVDDXNLY is narrated by A$AP Rocky, and features appearances by and interviews with Rihanna, Snoop Dogg, Macklemore, Kathy Griffin, Jeremy Scott, Danny Brown, and more.

The film's soundtrack is comprised of Rocky's hits along with unreleased music from his upcoming instrumental album titled Beauty & The Beast: Slowed Down Sessions (Chapter 1)."
The film premiered at this year's South By Southwest festival in Austin, Texas back in March and reportedly received a good reception. For everyone else, the film will premiere next week August 5 on Noisey's Youtube channel.
On the more musical side of things, Rocky is reportedly working on his follow-up to Long. Live. A$AP. The album was announced via Rocky's twitter back in late March, which said, "SOPHOMORE ALBUM COMING ASAP." Though the "ASAP" part could have just been a signature, it probably means that the album will be out by the end of the year.
Check out the trailer for SVDDXNLY right here:
Related Articles
---