---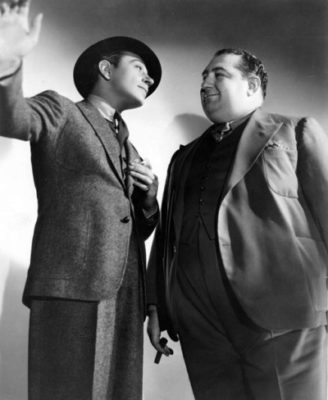 Mack Gordon (right), born Morris Gittler, June 21, 1904 – February 28, 1959, was an American composer and lyricist of songs for the stage and film. He was nominated for the best original song Oscar nine times in eleven years, including five consecutive years between 1940 and 1944, and won the award once, for "You'll Never Know". That song has proved among his most enduring, and remains popular in films and television commercials to this day. "At Last" is another of his best-known songs.
Gordon was born in Warsaw and moved to Harlem, New York as a child. He appeared as a vaudeville actor and singer in the late 1920s and early 1930s but his songwriting talents were always paramount. He formed a partnership with English pianist Harry Revel that lasted throughout the 1930s. In the 1940s he worked with a string of other composers including Harry Warren.
The Internet Movie Database states that Gordon's songs have been used in the soundtrack of over 100 films, Gordon writing specifically for at least 50 of them. His catalogue includes more than 120 songs sung by some of the world's most famous and talented performers such as Frank Sinatra, Dean Martin, Sammy Davis, Jr., Etta James, Glenn Miller, Barbra Streisand, Christina Aguilera, Mel Tormé, Nat King Cole, and many more. His close friendship with many of his artists (such as Frank Sinatra and the Rat Pack) and his ability to write lyrics that were timeless allowed him to become one of the most famous members of the world of music and a legendary lyricist. Thus there is perhaps no surprise that his exhibit in the Songwriters Hall of Fame says he is "arguably one of the most successful lyricists to write for the screen". He was entombed in Corridor of Immortality at Home of Peace Cemetery.
Photo credit: via songhall.
Related Articles
---