---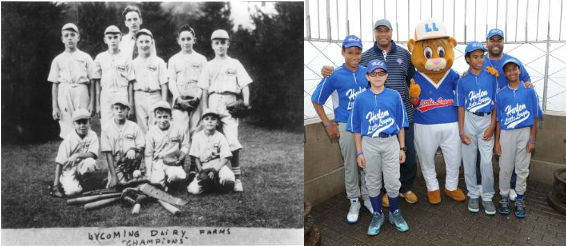 Former MLB All-Star and New York Yankees centerfielder, Bernie Williams, and Little Leaguers® from Harlem, New York, today lit the Empire State Building in red, white and blue in a special ceremony to honor the 75th Anniversary of Little League®. Joining Williams and the Little Leaguers was Stephen D. Kenner, Little League President and CEO.
Since its beginning 75 years ago, Little League has been a place where communities unite, and on Friday, Little League, the world's largest youth sports organization, will commemorate the 75th Anniversary of the very first Little League game, which was played in Williamsport on June 6, 1939. Celebratory events around the world include the Australia Region Little League Baseball Championship game to family-oriented, neighborhood celebrations to a gathering at the birthplace of Little League in Williamsport, Pa., with league staff and friends, local dignitaries, celebrities and local Little Leaguers.
Additionally, as part of the Williamsport celebration, guests will see the premiere of "Little League: The History," an original documentary film created by VIA Studios Global, a division of WVIA Public Media, airing on WVIA June 9 and on PBS stations around the nation starting in July (check local listings for times). The film, narrated by legendary baseball broadcaster Vin Scully, chronicles and celebrates Little League's 75-year contribution to American culture and to the quality of life for millions around the world.
"We are so thrilled to be celebrating 75 amazing years of Little League with events taking place in communities around the world," said Mr. Keener. "We attribute our success to never straying from our founding mission and continuing to evolve to meet the expectations of today's parents. Little League looks forward to another 75 years of teaching life lessons from the diamond."
This year also marks major milestones in the history of Little League, with the celebrations of the 40th Anniversary of Little League Softball®, 25th Anniversary of the Little League Challenger Division® and 15th Anniversary of the Little League Urban Initiative; which was essential in the early success of the Harlem Little League.
Little League will continue to host a number of initiatives throughout the year that celebrate the fundamental values of the program – community, family, friendly competition and relationships that last a lifetime. People can visit LittleLeagueBigLegacy.com to see the Little League Big Legacy Project digital mosaic (unveiled on Friday, June 6), learn about the history of the Little League program, explore the interactive timeline with photos and videos celebrating Little League, and get the most up to date information on events and activities and how they can commemorate the organization's 75th Anniversary (source).
---