---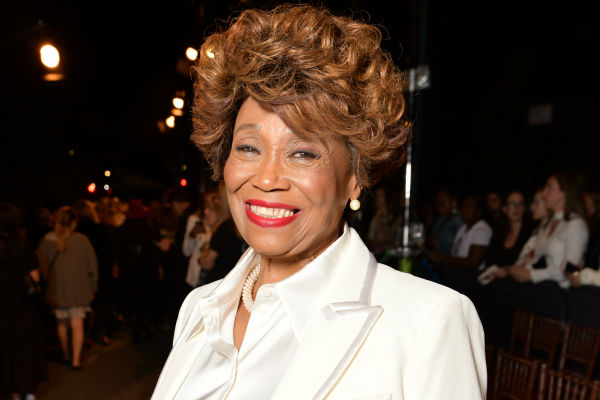 Vy Higginsen noted author, playwright, Broadway producer, radio, and TV personality on Wednesday, June 3, 2020, at Sydenham Health Center donated her bestselling Mama's One Sauce to NYC Health + Hospitals/Gotham Health, Sydenham staff.
Dr. Elizabeth Natal, NYC Health + Hospitals/Gotham Health, Sydenham's Chief Medical Officer hosted a celebrator program in honor of Harlem's legend Vy Higginsen. Dr. Natal stated "We are truly honored and thankful for our Community Advisory Board former honoree Ms. Higginsen's very generous donation of Mama's One Sauces in mild, spicy and fire to our staff…Sydenham's Health Care Heroes".
Remarks were given by Hon. Keith L.T. Wright, Leader, New York County Democrats; Manhattan Borough President Gale A. Brewer; Sydenham Community Advisory Board Chair Everett L. Person, M.P.A. and closing remarks by Sydenham's Associate Executive Director Shaheed Farnum, M.B.A.
The highlight was remarks by Vy Higginsen who stated her sauce is a marriage of old and new. The recipe was inspired by her childhood growing up with recent arrivals from the south, Caribbean and India. With no experience in the food industry when she decided to make Mama's One Sauce. She didn't know what the label should look like, what size the bottle should be, or how to deliver an order from a distributor.
So, she contacted Harlem Park-to-Park and their small vendor program. It is a crash course in business development that puts local vendors in touch with Columbia University and Whole Foods. And, now her sauce is so popular in Harlem's Whole Foods, that the supermarket is now using it in their hot food bar where people order takeout.
Also, attending the event were Vy Higginsen's daughter Ahmaya Knoelle; Athena B. Moore, Director of Manhattan Borough President Gale A. Brewer, Northern Manhattan Office; Jordan Wright; Stanley Gleason; Sydenham Community Advisory Board Vice Chair Donna V. Gill and executive board member Joyce M. Rivers; Renaissance Auxiliary President, Veronica Harvey; members of Sydenham leadership team Lydia Robinson, Janie Richardson, and Gotham Health communication, public relations and marketing officer Nancy Ramos.
Donate to NYC Health + Hospitals COVID-19 Relief Efforts https://nychhc.networkforgood.com/
Photo credit: Vy Higginsen.
---