---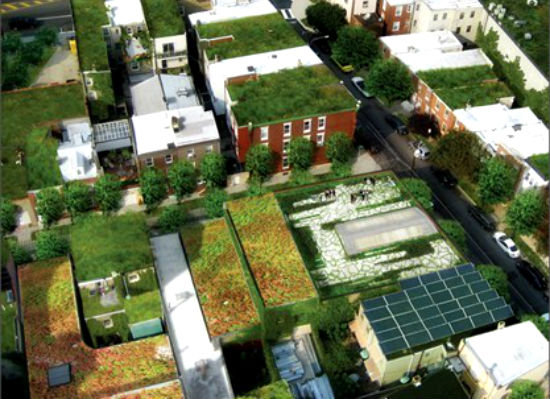 Crauderueff & Associates; The Green Infrastructure Foundation; and the Canaan Baptist Church are pleased to release Greening Harlem: A Report of the CitiesAlive 2015 Harlem Legacy Project, a design concept and cost-benefit analysis of widespread green infrastructure implementation in Harlem. This bold vision includes the conversion of St. Nicholas Ave. to a pedestrian and cyclist-oriented greenway, connecting Central Park with several green spaces in Northern Manhattan.
"This report clearly demonstrates that we need to look more closely at living green infrastructure investments to meet the needs of communities across the continent," said Steven W. Peck, CoFounder of the Green Infrastructure Foundation. "For far too long we've only thought of the aesthetic benefits of green infrastructure, when what is really at stake is our mental and physical health, local employment, the amount of energy we consume, the quality of the air we breathe and the water we drink. "
"This project has resulted in an innovative and replicable model for neighborhood-scale green improvements in New York City," said Rob Crauderueff, President and CEO of Crauderueff & Associates.
Greening Harlem profiles the redesign of several areas in Harlem using a variety of green infrastructure types, including green roofs, trees, bioswales, and urban farms. Volunteers worked in multidisciplinary groups to redesign existing sites, ranging from a few buildings to 10 blocks – creating compelling visuals in the process. A detailed assessment of renewable technologies like solar PV panels was also conducted for the properties of Canaan Baptist Church. Afterwards, the designs were subject to a detailed aggregate cost-benefit analysis to determine the overall impact. Cost and benefit numbers customized to New York City were used in this analysis to reflect the unique circumstances of the nation's largest city.
On one site, bounded by Frederick Douglass Blvd., Malcolm X Blvd., 116th St. and 121st St., designers planned a $10 million investment in green infrastructure, including the bold proposal to transform St. Nicholas Ave. This proposal would lead to the creation of 170 one-time construction jobs, 10 annual maintenance jobs, and $1.4 million in annual public and private benefits. The estimated public return on investment from this plan is $11 million after 25 years, and $37 million after 50 years.
"A main goal of this effort is to spur economic development and improve quality of life in Harlem through urban sustainable technologies and green infrastructure. I envision an urban sustainable technologies business center right here. No better place than Harlem!" said Dakota Pippins, CEO of Pippins Strategies and Adjunct Associate Professor at New York University.
The report is available for download here or at greeninfrastructurefoundation.org.
Via Living Architecture Monitor
Related Articles
---