---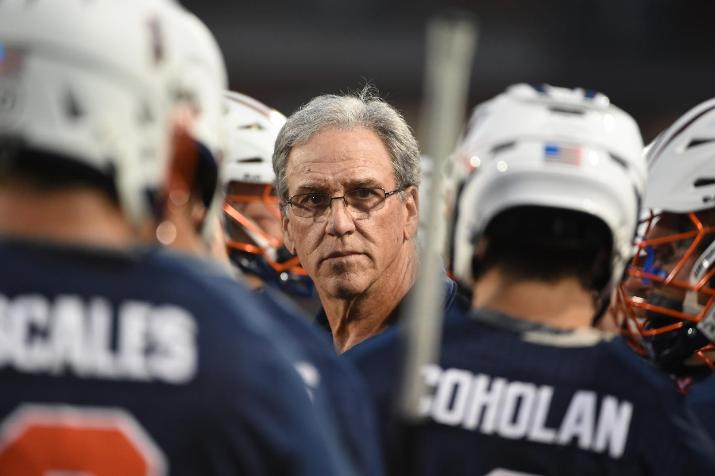 Harlem Lacrosse executive board member Dom Starsia will be honored at Harlem Lacrosse's annual benefit for his inspirational leadership as an ambassador for Harlem Lacrosse, his commitment to serving young people and his continued efforts to promote educational opportunity and grow the game responsibly.
The benefit, which will take place Thursday, Sept. 29, from 6:30-9:30 p.m. in New York City at the Waldorf Astoria, will place the Hall of Fame former Virginia coach front and center. Starsia, who is the all-time winningest coach in Division I lacrosse and coached the Cavaliers to four NCAA titles, has been a staunch advocate for Harlem Lacrosse since joining the executive board in 2013. Starsia has hosted Harlem Lacrosse middle school students at Virginia the last four years and has played a key role in spreading awareness about the program.
While reflecting on Starsia's role at Harlem Lacrosse, founder and executive board president Simon Cataldo said: "In terms of [Harlem Lacrosse] being an education and leadership-first, lacrosse-second organization, nobody gets it better than Dom. He was initially drawn to Harlem Lacrosse because of our emphasis on serving special education students, and he has been a staunch advocate of our school-based service model since day one."
Added Cataldo: "The most common words I've heard out of Dom's mouth are: 'What more can I do?' He is the embodiment of generosity, and it is easy to see why he is so admired and beloved by so many. I could not imagine anyone being a better bridge between an education nonprofit like ours and the lacrosse community."
For Starsia, the night will be a family affair. Lisa Kerney, a current ESPN "SportsCenter" anchor, will serve as master of ceremonies and is the wife of former NFL star Patrick Kerney, who played lacrosse for Starsia at Virginia. There will be 16 other college lacrosse coaches also in attendance, including Princeton women's coach and Harlem Lacrosse executive board member Chris Sailer. Harlem Lacrosse advisory board member Lars Tiffany, who was recently hired as Virginia's new head coach and played for Starsia at Brown, will introduce Starsia. Two of Starsia's former Virginia players have also worked for Harlem Lacrosse and will be there to honor their former coach and mentor. Wyatt Melzer was the program director at P.S. 149 Sojourner Truth School from 2012-2014 and is currently on the Harlem Lacrosse advisory board. Owen Van Arsdale, who captained the 2015 Virginia squad, is currently the senior program director at Frederick Douglass Academy 1.
Van Arsdale reflected on Starsia's enormous influence on the sport. "[Starsia]'s influence in my life played a large part in my desire to serve Harlem Lacrosse student-athletes," he said. "The life lessons he instilled in his players continue to be reflected and passed down every day by each one of us, and that is truly a testament to who Dom is as a leader and educator. It is fitting that we honor Dom for his commitment to using the sport of lacrosse as a vehicle to leave the world better than he found it."
To learn more about Harlem Lacrosse's mission and unique brand of school-based intervention programming, visit harlemlacrosse.org. Tickets to the Annual Benefit on Sept. 29 can be purchased here.
Harlem Lacrosse is a school-based nonprofit whose mission is to provide a safe, structured environment for children to compete and learn while they develop into leaders for their community. Harlem Lacrosse operates eleven programs in Boston, Baltimore, and New York serving close to 500 students this year and will be launching two more programs in Philadelphia in 2017. Our programming empowers students to achieve their potential and break the cycle of poverty by providing daily study halls, mentoring, pushing academic support, and vigorous, character building lacrosse instruction. Harlem Lacrosse students achieve average core class GPA increases of between 510 points each year. Harlem Lacrosse has maintained a 100% graduation rate among middle school participants and helped students earn over $15 million in scholarship offers from some of the most prestigious preparatory and secondary schools in the country. Harlem Lacrosse alumni attend Bates College, Colby College, Connecticut College, Gettysburg College, Haverford College, Hobart College, Tufts University, the University of Virginia, and the U.S. Military Academy at West Point.
Via source
No related posts found...
---