---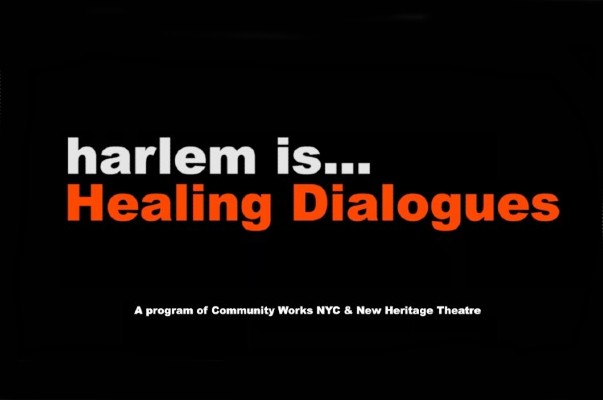 Harlem is …Healing Dialogues, launched on Wednesday, July 28, 2021,
is a free set of virtual public conversations with selected honorees from among the 45 heroes profiled in the Community Works/New Heritage Theatre Group program Harlem is . . . Healing.
These conversations deepen our understanding of themes raised by the honorees' work to bring healing to a community affected by the pandemic and by issues of policing and social justice turmoil.
The series begins with an animated conversation between educator and cultural producer Deirdre Hollman and Shirley Taylor, Director of Education at the Apollo Theater, and focuses on the history and future of community education in Harlem, the present revitalization and expansion of Harlem's cultural institutions and the resilient spirit of the people in the neighborhood.
As in other communities, the pandemic roiled youth programs, required adjusting to electronic media alternatives, and challenged basic thinking about education at all levels. The program also includes a dramatic performance by Harlem poet and performer Daniel Carlton.
Other conversations will focus on the overlap between art and social justice, featuring actress and Bronx TV personality Rhina Valentin with artist Andrea Arroyo; on the challenges facing faith institutions and community well-being featuring journalist and author Lee Daniels with the Rev. Michael A. Walrond Jr., senior pastor of First Corinthian Baptist Church; on the issues of balancing community policing and perceptions of fairness featuring educator, actress and playwright Stephanie Berry with Arva Rice, President of the New York Urban League; and on the role of music and performance in community healing featuring storyteller, educator and folklorist Linda Humes with the legendary Vy Higginsen of Mama Foundation for the Arts.
Other conversations are in the works and will be announced on social media as they are completed.
Building on a 20-year effort to celebrate local heroes, since March Community Works/New Heritage Theatre Group have posted more than 45 tributes to institutions and individuals from a variety of backgrounds who are helping Harlem to heal by means of donations of food or other services, education, activism, the arts and technology.
"Harlem is . . . Healing Dialogues offer a platform for community members to reconnect, reflect and share ideas about Harlem as we collectively re-emerge and heal from the year that was 2020," stated Barbara Horowitz, Founder and President of Community Works NYC. "The issues that our honorees raised in interviews needed more discussion," she continued. "We start these discussions by noting that there have been disproportionate impacts from the pandemic and other current events on communities of color, and we want to give focus to these important healing efforts."
Voza Rivers, executive director of New Heritage Theatre Group, said, "This is the community listening to its best voices."
Harlem is . . . Healing Dialogues will be offered on YouTube at https://www.youtube.com/channel/UCUA9txbqCMR9TvPBi2fB4uQ and can be found through Harlem-Is.org/HealingDialogues, Community Works' website devoted to exploring the legacy of Harlem's unique cultural history. In addition, excerpts will be featured on www.instagram.com/harlemislegacy and www.facebook.com/communityworksnyc.
For further information, please email Barbara Horowitz, Founder and President, Community Works at bh@communityworksnyc.org or call (917) 757-2242.
---