---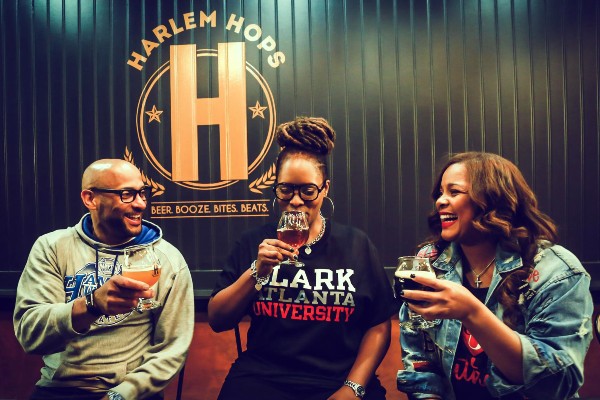 The HBCU (Historically Black Colleges & Universities), educated partners of Harlem Hops, with owners Kim Harris, Stacey Lee and Kevin Bradford are thrilled to announce the impending Friday, October 15th, 2021, drop of Harlem Hopes HBCU Homecoming.
Harlem Hopes HBCU Homecoming is a Porter brewed in collaboration with renowned Brooklyn Brewery.
The beer is currently aging in bourbon barrels provided by award-winning Uncle Nearest Premium Whiskey. A delicious, definitively Fall Porter, this collab combines the mastery of top Black artisans and the finest ingredients: Crystal, Honey, Chocolate, Aromatic and debittered Black Malts, and Willamette hops. 7.1% ABV.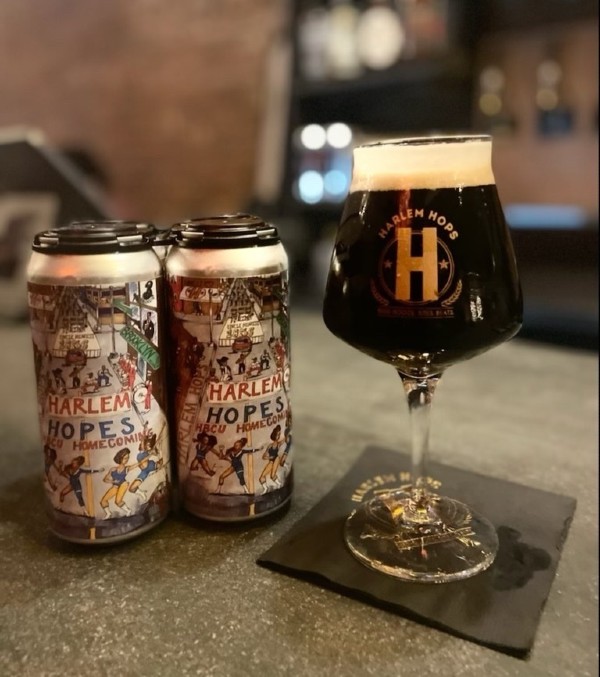 Harlem Hops co-owner Kim Harris reflects on the origin of the beer: "Homecoming is a love letter to our HBCU's. Since Covid has made it difficult for us to come together and celebrate in person, we wanted to offer a 'homecoming in a can', bringing the flavor of our beloved HBCUs to your fingertips, and tastebuds. We were excited to work with African-American brewmaster Garrett Oliver of Brooklyn Brewery, who made such a memorable appearance at our 1st Anniversary party in 2019. The oak barrels from Uncle Nearest will provide an invaluable element. Brooklyn Brewery will be making a donation from this first edition of Harlem Hopes HBCU Homecoming to our non-profit organization, Harlem Hopes. This contribution will allow us to continue to offer scholarships to students that reside in Harlem and are entering their first year at an HBCU."
Brooklyn Brewery's Garrett Oliver shares Harlem Hops' commitment to education, having started the Michael James Jackson Foundation for Brewing and Distilling in 2020. About the beer, he says, "We brewed Homecoming as a classic smooth strong Porter, building a base of pale ale and honey malt, then layering in caramel malt and husk-less black malt for roasted coffee and chocolate flavors. The beer marries perfectly with Uncle Nearest's oak-driven vanilla, coconut and cinnamon notes. Homecoming is rich enough to never get boring, but sleek enough for pints with friends and family."
Cans will bear a label with Homecoming-themed artwork by Harlem artist Roosevelt "Black Rose" Taylor, as well as a QR code that will take you to a custom Homecoming playlist by another HBCU alum, Howard University-educated DJ C. Devone. Starting Friday, October 15th, 201, the beer will be available on tap and in 16oz cans, exclusively at Harlem Hops, at the Brooklyn Brewery Tasting Room and at a select list of their favorite craft beer spots, who will be donating a portion of proceeds to Harlem Hopes: Bierwax, Sampler BK, Camela's Tasting Room, Draught Industries, Beer Noggin, The Local Nyack, Eddie's Roadhouse, Mohawk Taproom, Luke's Lobster, Whitman's Hudson Yards, and Wolf & Warrior. Thirsty beer fans won't want to sleep on this limited release.
In addition to being named Imbibe Magazine's 2019 Beer Bar Of The Year and one of Thrillist's Best Beer Bars in NYC, and one of USA Today's 10Best Beer Bars 2020 and 2021, Harlem Hops' partners were amongst SevenFifty Daily's accomplished 2018 Drinks Innovators. Essence, ESPN's The Undefeated, The New Yorker, Grub Street, NY Amsterdam News, Fox5NY and The New York Times also took notice of Harlem Hops.
Harlem Hops, 2268 ACP Jr Blvd, New York NY 10030 (b/w 133rd & 134th St), (646) 998-3444/ www.harlemhops.com / @harlemhops, www.harlemhopes.org / @harlemhopes
Photo credit: 1) (l to r) Kevin Bradford, Kim Harris, Stacey Lee Spratt. 2) Harlem Hops beer.
---