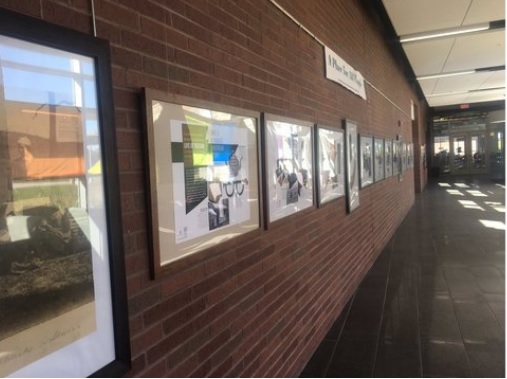 A moving display has made a pit stop in the Poconos, Tannersville and all are invited to see it. Jacob Morris moved the Smithsonian Institution display from Brooklyn to Tannersville.
"This is a beautiful venue, and I love the welcome that the Poconos has given this exhibit," says Jacob Morris of the Harlem Historical Society.
"It's interesting," says Amanda Carrazana, freshman.
On her way to class, Amanda Carrazana stopped by to browse the traveling exhibit.
She says, "I think it's cool we can get a glimpse of what used to be."
At Northampton Community College, students can learn about the struggles and triumphs African Americans experienced.
"It brings the past forward," says Cleo Jarvis, President of the African American Network.
The display is called "A Place For All People". It includes photos of artifacts you can see in person at the 'National Museum of African American History and Culture' in Washington, DC.
Students got a glimpse of this slave house from the 1850's and child shackles that were used during transportation on slave ships.
"I mean, it's kind of scary that was a thing back then," Carrazana adds.
The exhibit takes you through history. Some of the things you'll learn about are art, music and culture.
---
---
"When we share about ourselves, our family, our cultures it dispels a lot of fear, a lot of misconceptions," Jarvis adds.
The moving exhibit is on display through December 8th, 2017, at Northampton Community Colleges' Keystone Hall.
Take a two hour drive from Harlem, NY to the Poconos, Tannersville click here.
Via source
Related Articles