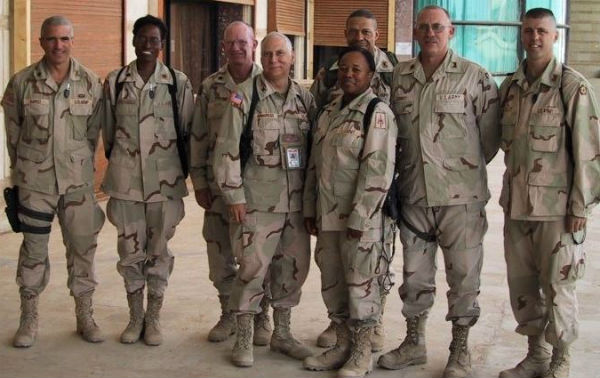 "America's Parade," the 97th annual New York City Veterans Day Parade, begins with a Memorial Ceremony featuring, Mayor Bill de Blasio and other dignitaries on Friday, November 11, 10 a.m. – 11 a.m. at Madison Square Park, 23rd Street and Fifth Avenue.  Parade begins at 11:11 a.m.
For the first time ever, the United War Veterans Council (UWVC), producers of the parade, has named three Grand Marshals, who represent both post-9/11 military vets and 9/11 First Responders:
Port Authority Acting COO Stephanie Dawson, the first woman brigade commander of the Harlem Hellfighters and a New York Army National Guard colonel who commanded troops at Ground Zero on 9/11 and later served in Kuwait as part of Operation Enduring Freedom and in Iraq;
New York Fire Department Battalion Chief Joseph Duggan, who responded on 9/11 and later served with the Army Reserve in Iraq, helping rebuild the Baghdad Fire Department.
New York Police Detective Nelson Vergara, who spent months working at Ground Zero and served with the U.S. Marine Corps in Iraq;
America's Parade — the largest celebration of service in the nation — steps off at 11:11 a.m. at 26th Street and Fifth Avenue and proceeds up Fifth Avenue to 53rd Street.
The parade features more than 40,000 participants, including veterans, active military units and high school bands from around the nation.  Sponsors include JP Morgan Chase & Co., Aetna, UWVC Recycling, Cushman & Wakefield and AWEARNESS Kenneth Cole.
Veterans Village Resource Fair, featuring organizations which serve veterans, is at 53rd Street and Avenue of the Americas.
Friday, November, 11th, 2016, 10 A.M. — Memorial Ceremony Madison Square Park, 23RD Street And Fifth Avenue
Friday, November, 11th, 2016, 11:11 A.M. — Parade begins, Fifth Avenue, 26TH – 52RD Streets
Related Articles
---