---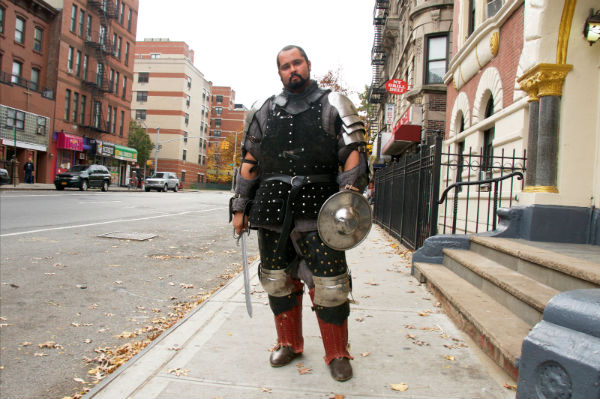 A veteran of the US Air Force, by day this Harvard graduate calls the shots as a management consultant at a top investment bank in Midtown.
By night, the 35-year-old smashes heads with a medieval club.
DiGrazia is the captain and a founding member of the New York chapter of the Armored Combat League, an international sport that's likened to a 'Game Of Thrones'-type Fight Club where anything medieval goes.
"You know there are some people who do this because of the medieval aspect and there are some people who love this because of the medieval aspect," DiGrazia explained.
"I am more into it for the sport aspect of it because as a martial artist – I did a lot of martial arts before this, this is like a martial artists' dream."
The protective armor weighs about 75 pounds and the objective is don't get knocked down.
In recent years, the sport has grown in the Big Apple prompting a custom-made facility to open along 125th Street in East Harlem, attracting what you may call a very eclectic crowd.
In an article about the club in Harlem NYMag wrote:
The stretch of Madison Avenue between 124th and 125th Streets has its Sunday soundtrack: a drum circle in Marcus Garvey Park, overlaid by sirens. Multiple hairdressers vie for trade, a pink-themed bakery sells sugar cookies by the pound, and Black Hebrew Israelites patrol outside a bodega that seems to host a never-ending kiki around its ice-cream freezer. Around the corner, police busted some pot dealers and found, along with guns and pit bulls, an eight-foot guard python. To add to the surrealism, I was once swooped by a red-tailed hawk while carrying laundry across the street.

And then the people with the swords showed up, some resembling samurais and others dressed for battle in Westeros.

Several months ago, I began to wonder when heavy construction began in the empty basement of a building behind my own. Until 2003, this basement had been the Mount Morris bathhouse, a gay cruising den that managed to endure through the worst days of the city's AIDS crisis. ("I always tell the clients, 'If I can't bring my wife down here, it isn't right,'" the old owner told the New York Times.)
"It's completely across the board," he said. "We have people who work for a toy company, [another who is] a social worker.
"I even have a guy now who's 70-years-old," DiGrazia said. "He's a marine and he's fighting my guys who are in their early 20s."
The common thread shared by members is a fearless attitude that was masterfully captured by MEL Films  in a mini documentary posted online.
While the sport is brutal, DiGrazia insists fighters carry themselves with class.
"We don't get angry, don't punch the floor if you lose," he said. "One guy does that a lot. You know we just do this in a good sportsman, good gentlemanly way."
"We [need to] set a good positive example."
Watch the full documentary on NYC's Armored Combat League in Harlem by MEL Films "Harlem Knight Fight":
Here's the video:
Want to go medieval in Harlem? Contact the NYC's Armored Combat League here.
Via PX11
Photo by Photo: Lance Richardson.
Related Articles
---