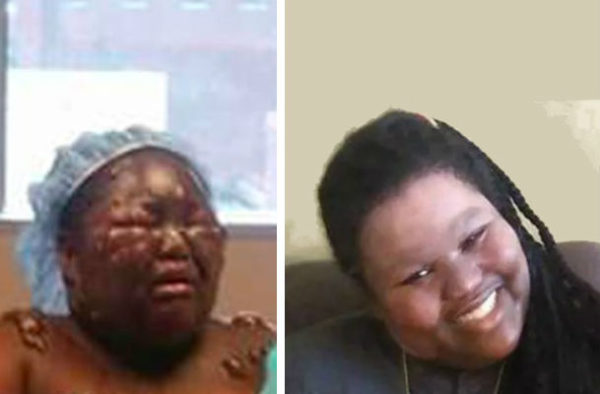 Jamone Merritt was asleep on a friend's couch August 7, 2017, when she woke up to boiling water being poured on her face at 4:00 a.m.
11-Yr-Old Girl Pours Hot Water On Her Harlem Friend (Photos)AN 11-year-old girl was severely burned when her friends allegedly poured scalding hot water on her …Aug 10 2017harlemworldmag.com
She had burns on 85 percent of her face, as well as on her neck, shoulders and chest. Jamone said three girls at the sleepover told her if she fell asleep, they would prank her.
"Her and her friend got into an argument, and she told her if she go to sleep, they were going to do something to her," Jamone's cousin Yolanda Richardson told WCBS.
Aniya Grant Stuart, 12, was charged with assault and taken to family court after she allegedly poured a cup of boiling water on Jamone. After Stuart poured the water, her mother applied ice to Jamone's burns and gave her a cold shower.
"I didn't know what they was gonna do, but I felt tired. So after I was dancing I just sat on the couch and I fell asleep," Jamone said.
"I was screaming because it burned, it burned, it burned, it burned," she recalled of the incident.
Bronx Mom Vows Revenge As Daughter, 11, Recovers In Harlem From Horrific BurnsNY Daily News reports that a schoolgirl prank gone gruesomely wrong left an 11-year-old Bronx girl h…Aug 11 2017harlemworldmag.com
Jamone said the girls claimed the occurrence was an accident. Jamone's mother said she believes all three girls and Ayna's mother should be arrested.
"The mother is just as involved as the other kids. This happened at 4 a.m., but they didn't come to my house until 5:30," Ebony Merritt said. "That means she was there for an hour and a half while they were trying to cover their tracks. I just want justice for Jamone."
The Merritt family lawyer, Paul Prestia, said after meeting with the city's Law Department, he thinks "anyone responsible for harming Jamoni that night" will be charged.
Ebony Merritt also said she thinks the incident was part of the "hot water challenge" an internet trend that involves pouring boiling water on another individual and posting the video on the internet. At least one person has died as a result of it.
---
---
Although Jamone was released from the hospital, some skin on her arm is still raw and she cannot go out into the sun. She is expected to miss the beginning of 7th grade and needs homeschooling, according to her mother. Ebony Merritt predicted it would take six months for her daughter's "color to come back in."
When asked if she was angry about what happened to her, Jamone told WABC, "I can't be angry. I have to be happy."
"I'm so great," Jamone Merritt said to NY Daily News. "Now I'm dancing and listening to music."
Ebony Merritt and Jamone's aunt, Tiffany Merritt, started a GoFundMe page to raise money for Jamone's medical costs. The description reads that "initial hospital bills, multiple skin graphs, plastic surgery & miscellaneous hospital visits will be needed" for Jamone to make a full recovery. Her family also wrote they want her to attend counseling "to make sure we heal her insides as well as her outside."
Almost $30,000 of the fundraiser's $100,000 goal has been raised.
Via source
Related articles
Related Articles