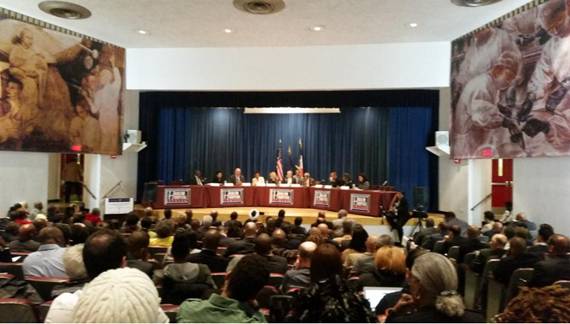 Today, Members of the Congressional Black Caucus (CBC) and the Joint Economic Committee (JEC) Democrats held a public forum at the Harlem Hospital Center to discuss the impact of economic challenges and persistent inequities facing the African American community in New York. 
Members heard from New York community and academic leaders during an informative discussion on the vast economic disparities among African Americans and whites around the country.
The forum titled: The American Dream on Hold: Economic Challenges in the African American Community, was hosted by Congressman G. K. Butterfield (D-NC), Chairman of the Congressional Black Caucus (CBC), Congresswoman Carolyn B. Maloney (D-NY), Ranking Democrat on the U.S. Congress Joint Economic Committee (JEC), Congressman Charles B. Rangel (D-NY), founding member of the CBC and Dean of the New York State Congressional Delegation,  Congresswoman Yvette D. Clarke (D-NY), member of the House Energy and Commerce Committee and the Small Business Committee, and Congressman Hakeem Jeffries (D-NY), member of the House Judiciary Committee.
"From persistent poverty, perennially high unemployment, and lower wages, in addition to inequitable application of justice and treatment under the law – African American communities around the country are facing critical hardships,"said Rep. Butterfield.  "This forum was designed to help us take a closer look at some of the most pressing issues facing African Americans in New York and around the country.  It allows us to highlight the incredible work that lies ahead as we identify ways to repair the damage stemming from a history of racial division so that all Americans can enjoy equality, fairness and opportunity."
"We produced this report for one reason and one reason only: To educate Congress and the American public about the stark economic disparities between black America and white America – because you cannot craft effective solutions unless you know the scope of the problem," said Rep. Maloney.  "For millions, the American Dream is still on hold.  We need to change that, and understanding the scope of the problem is critical to doing so."
Related: Listen to Rep. Charles Rangel and Danny Tisdale talk Harlem Politics on The Danny Tisdale Show on Harlem World Radio
"While the American Dream of prosperity, security and opportunity is still the standard by which most people measure success, for today's working families, especially of color, that Dream seems impossibly out of reach," said Rep. Rangel.  "I thank the CBC and JEC for coming to Harlem to discuss how steep the ladder is and how far apart the rungs are, so we can work on policies that will help tackle the rising inequalities threatening the well being and future of our communities."
"Disparities in income and particularly wealth have increased dramatically in recent years, as many African American families lost their homes to mortgage foreclosure," said Rep. Clarke.  "Many of these families were eligible for mortgages with low interest rates but were nonetheless sold subprime mortgages by banks that regularly practiced racial discrimination.  These disparities threaten the ability of every family to achieve the American Dream, as even a half-century after the enactment of the Civil Rights Act, African Americans in the United States are still denied the right to full participation in our civil society.  As members of Congress, we share a responsibility to support those individuals who want to create the change that will ultimately eliminate these disparities and establish the principle of equality as a matter of fact for every person in the United States."
Related: Listen to Clayton Banks and Danny Tisdale on The Danny Tisdale Show Talk Tech on Harlem World Radio
"The shameful household wealth chasm that exists between African-American households and others should shock the conscience of us all," said Rep. Jeffries.  "I look forward to working with my colleagues in the Congressional Black Caucus to ensure that all people, including African-Americans, have a seat at the table of prosperity and opportunity."
Panelists from today's forum discussion included:
Professor William "Sandy" Darity, Professor, Duke University
David R. Jones, President and CEO, Community Service Society of New York
Hope Knight, President and CEO, Greater Jamaica Development Corporation
Jennifer Jones Austin, CEO, Federation of Protestant Welfare Agencies
Walter Edwards, Chairman, Harlem Business Alliance
Dr. Hazel N. Dukes, President, NAACP New York State Conference
Gregory Floyd, President, Teamsters Local 237
C. Virginia Fields, President and CEO, National Black Leadership Commission
Clayton Banks, Founder and Co-Executive Producer, Silicon Harlem
Alejandra Castillo, Esq., National Director, Minority Business Development Agency
The public forum in New York was the second among a series of discussions planned around a JEC report released earlier this year, and a New York-specific report released this month, that found striking disparities between blacks and whites in employment, wealth, housing, and education.
---
---
Editor's note: Harlem World Magazine looks forward to assisting the Harlem community, the panelists and others in finding answers to these striking disparities mentioned in the reports.
Related Articles
VIDEO
---
Harlem Cultural Archives is a donor and foundation-supported Historical Society, Its mission is to create, maintain and grow a remotely accessible, online, interactive repository of audio-visual materials documenting Harlem's remarkable and varied multicultural legacies, including its storied past as well as its continuing contributions to the City and State of New York, the nation, and the world.
Support Harlem Cultural Archives
and
click here to get more Harlem History
, Thank you.