---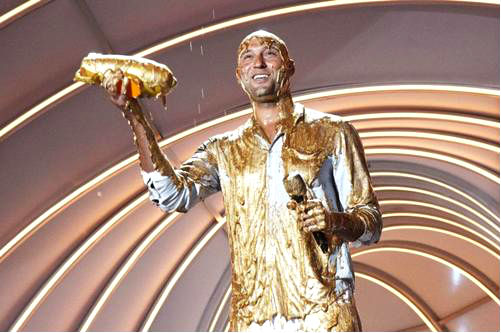 Five-time World Series Champion Derek Jeter was honored with the Legend Award at this year's second annual Kids' Choice Sports 2015 in recognition of his unmatched talent, integrity and sportsmanship on and off the field.
Upon receiving his golden mohawked blimp, Jeter was then suddenly doused from head to toe in gold slime that fell from a New York Yankees sign high above the stage.
Hosted by Seattle Seahawks Super Bowl quarterback Russell Wilson, orange mohawked blimps were handed out live Thursday, July 16, at 8 p.m. (ET/tape delayed for West Coast) from UCLA's Pauley Pavilion in Los Angeles in one slimy sports celebration.
Mega-sports stars Stephen Curry, Alex Morgan, Lindsey Vonn, Marshawn Lynch and Russell Wilson were among the winners, Nickelodeon's adrenaline-packed awards show where kids celebrated their favorite athletes and the year's most unforgettable sports moments.
Throughout the night, three kids had the opportunity to compete in one athletic feat each as part of Nickelodeon's "Triple Shot Challenge," which gave them the opportunity to win $50,000.  Two of the talented kids kicked and shot their ways to victory in the soccer and basketball challenges.  Thirteen-year-old Roee Maor played in the soccer competition, where he had five attempts to hit the crossbar from 30 yards away in 60 seconds. The Demarest, New Jersey, native nailed the crossbar on the first attempt, taking home a check for $50,000. A short time later, 14-year-old Jonathan Clark of Monrovia, Calif. sunk a half-court shot on the first attempt of five, also walking away with a $50,000 prize.
Additional highlights from the sports celebration included: Little League phenom Mo'Ne Davis smashing a blimp off of Nick Cannon's head with a baseball on the second throw; sports trick-shot group Dude Perfect surprise sliming Wilson after Detroit Pistons' Andre Drummond, U.S. figure skater Gracie Gold and Philadelphia Eagles' DeMarco Murray missed the target during a dizzying challenge; a group of 16 kids beating Seattle Seahawks Super Bowl XLVIII champion Marshawn Lynch in a battle of  tug-o-war; U.S. Women's National Soccer Team champions Carli Lloyd and Abby Wambach speeding through the finish line first against Golden State Warriors' Draymond Green and Klay Thompson during a tricycle relay race; and Grammy-nominated artist Ciara and host Wilson dancing the "Nae Nae."
The star-studded telecast's additional celebrity participants included: U.S. Women's National Soccer Team players Ashlyn Harris, Alex Morgan, Christen Press, Ali Krieger, Kelley O'Hara, Hope Solo, Sydney Leroux and Tobin Heath; Golden State Warriors' Stephen Curry; Professional Alpine Ski Racer Lindsey Vonn; sportscaster and television host Erin Andrews; U.S. figure skater Ashley Wagner; Los Angeles Sparks' Candace Parker; and Nickelodeon cast members from 100 Things To Do Before High School,Henry Danger, Bella and the Bulldogs and Nicky, Ricky, Dicky & Dawn, among others.
Kids and families from around the country showed their support for their favorite athletes, teams and sports moments by casting votes in 12 categories, from June 8-July 9 at Nick.com/sports.  Additionally, voters were able to score bonus votes for their picks by playing the sports multiplier game.
Nickelodeon upped the digital presence of Kids' Choice Sports 2015, offering content before, during and after the big show on Nick.com, the Nick App on iOS and Android devices, as well as Twitter, Instagram and Facebook.  A live photo stream from the Orange Carpet provided exclusive access to all the stars and athletes as they arrived to the show.  Modeled after a running track, the orange carpet featured a slime dunk tank, a sports-themed GIF booth and a football and basketball area for celebrities to get into the spirit of the awards. Coverage during the event included a live photo stream that offered insider access to all the fun in the audience and backstage.  Fans can relive their favorite show moments by watching Kids' Choice Sports video highlights, and flipping through orange carpet, live event and performance photos at Nick.com/sports.
The live broadcast of Nickelodeon's Kids' Choice Sports 2015 will encore Friday, July 17, at 8 p.m. (ET/PT).  Replays of the awards will also air on Sunday, July 19, at 7:30 p.m. (ET/PT) on TeenNick and Wednesday, July 22, at 10:30 p.m. (ET/PT) on Nicktoons.  Kids' Choice Sports 2015 will also be available on the Nick App and Nick.com by signing in through participating TV Everywhere providers, and via Nickelodeon On Demand beginning Friday, July 17.
The following are Nickelodeon's Kids' Choice Sports 2015 winners:
BEST MALE ATHLETE
Stephen Curry (NBA, Golden State Warriors)
BEST FEMALE ATHLETE
Alex Morgan (USWNT and NWSL, Portland Thorns FC)
FAVORITE NEWCOMER
Odell Beckham Jr. (NFL, New York Giants)
HANDS OF GOLD
Mike Trout (MLB, Los Angeles Angels of Anaheim)
CLUTCH PLAYER OF THE YEAR
Stephen Curry (NBA, Golden State Warriors)
SICKEST MOVES
Stephen Curry (NBA, Golden State Warriors)
DON'T TRY THIS AT HOME AWARD
Lindsey Vonn (Professional Alpine Ski Racer)
MOST ENTHUSIASTIC PLAYER
Gabby Douglas (US Gymnastics)
KING OF SWAG
Russell Wilson (NFL, Seattle Seahawks)
QUEEN OF SWAG
Serena Williams (WTA)
BEST CANNON
Russell Wilson (NFL, Seattle Seahawks)
BIGGEST POWERHOUSE
Marshawn Lynch (NFL, Seattle Seahawks)
Nickelodeon's Kids' Choice Sports 2015 is produced by Done + Dusted in association with Nickelodeon Productions. Jay Schmalholz and Shelly Sumpter Gillyard are executive producers.  Constance Schwartz and Michael Strahan of SMAC Entertainment will serve as executive producers, alongside Ian Stewart and Hamish Hamilton of Done + Dusted with Hamilton also serving as director of the show.
---