---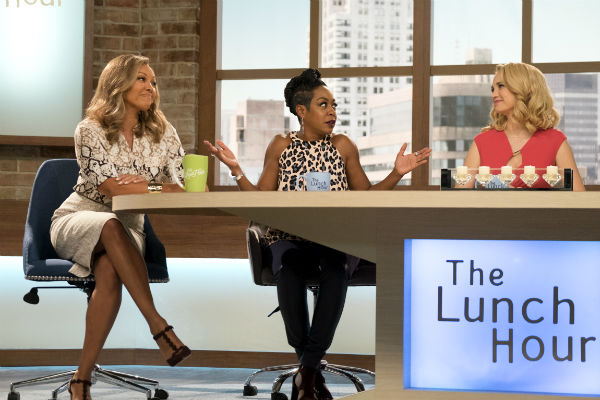 VH1 today announced the cast starring Harlem fave Tichina Arnold and showrunners for the network's latest scripted series "Daytime Divas," formerly known as "Satan's Sisters."
Joining the previously announced Vanessa Williams who will play the role of 'Maxine' – the creator/host of the popular talk show 'The Lunch Hour' are Tichina Arnold ("Survivor's Remorse") as 'Mo,' Chloe Bridges ("The Carrie Diaries") as 'Kibby,' Camille Guaty ("Scorpion") as 'Nina' and Fiona Gubelmann ("Wilfred") as 'Heather' all of whom play co-hosts on the fictional daytime series. McKinley Freeman ("Hit The Floor") has also been cast as 'Shawn,' Maxine's son and 'The Lunch Hour' producer.
Chris Alberghini and Mike Chessler ("Awkward," "90210") are showrunners as well as executive producers. They are represented by Paradigm and Stephanie Davis at Wetdog Entertainment.
Principal photography for "Daytime Divas" begins in Atlanta this month.
"Daytime Divas" is inspired by Star Jones' 2011 book Satan's Sisters… A Novel of Fiction set behind the scenes of a long-running daytime television show, chronicling the fireworks that erupt daily between the five female co-hosts. On screen, they are best friends with five very different points of view, but behind the scenes, they inhabit a world of power struggles, cat fights and cocktails.
Executive producers for 'Daytime Divas' are Josh Berman ("Drop Dead Diva," "CSI"), Star Jones (TV personality, advocate, author & attorney), Suzanne de Passe ("The Temptations," "Lonesome Dove"), Madison Jones, and Susan Levison. Writers for the series are Amy Engelberg and Wendy Engelberg, who also serve as executive producers. Chris Alberghini and Mike Chessler are also executive producers. Suzanne Coston serves as co-executive producer. The series is a co-production with Sony Pictures Television.
Daytime Divas is perfect after work entertainment, make sure to mark your calendar to watch the show as it premieres on Monday, June 5, 2017, at 9 pm EST.
For more information, go to www.vh1press.com, VH1.com, or the VH1 Facebook page. Follow us on Twitter @VH1PR.
---