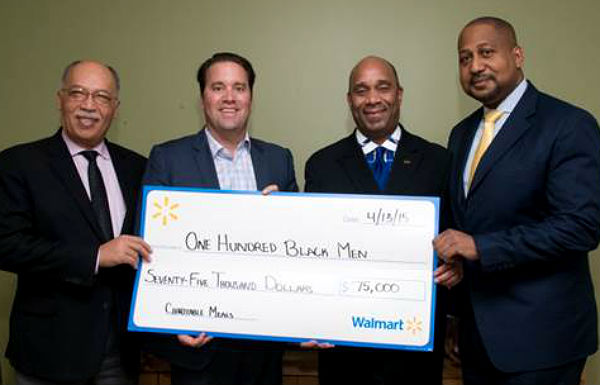 One Hundred Black Men received a grant of $75,000 from the Walmart Foundation as part of both organizations' commitments to fighting hunger and promoting nutrition among those in need. Walmart representatives awarded the donation at a ceremony held at the One Hundred Black Men's headquarters at 299 Park Ave in New York on Monday.
"It is through Walmart's generous support for our Hunger Relief Initiative that this and other programs of the One Hundred Black Men, Inc. of New York have been so successful," said Michael J. Garner, President of the founding chapter of the international organization.  "On behalf of the Board of Directors and our members we are thrilled to be able to partner with Walmart on such a significant community service — providing meals for thousands of families throughout New York City," Mr. Garner added.
One Hundred Black Men (OHBM) works to improve the quality of life within their communities through their Holiday Hunger Relief program, which provides healthy meals to families during the holiday season. With the assistance of Walmart's donation, the organization's hunger relief and nutrition education program will be able to expand its reach to feed over 6,000 families throughout the five boroughs of New York City. 
The hunger relief and nutrition education program was launched in 2012 and quickly became an integral component of OHBM's community outreach program. Through its community and corporate partnerships, OHMB distributes healthy meals consisting of turkey dinners with mashed potatoes, greens and dinner rolls to families of four that qualify for WIC or SNAP. It is the responsibility of each family to take the meals home to prepare their healthy holiday meal.
"Walmart is committed to assisting organizations like One Hundred Black Men to provide charitable meals as part of our Hunger Relief and Healthy Eating initiative," said Jason Klipa, Walmart's Director of Public Affairs and Government Relations.  "Funding for One Hundred Black Men is an important source of support to thousands of people in the City, and we are grateful to be able to contribute to the efforts of supplying food to those families in need, especially during the holiday seasons."
To be considered for support, perspective grantee organizations must submit applications through the Walmart Foundation State Giving Program's online grant application. Applicants must have a current 501(c)(3) tax-exempt status in order to meet the program's minimum eligibility criteria. Additional information about the program's funding guidelines and application process are available online atwww.walmartfoundation.org/stategiving.
To learn more about Walmart's giving, visit foundation.walmart.com.
For more information or to support the programs of the organization, call 212-777-7070 or log on to www.ohbm.org.
Related Articles