---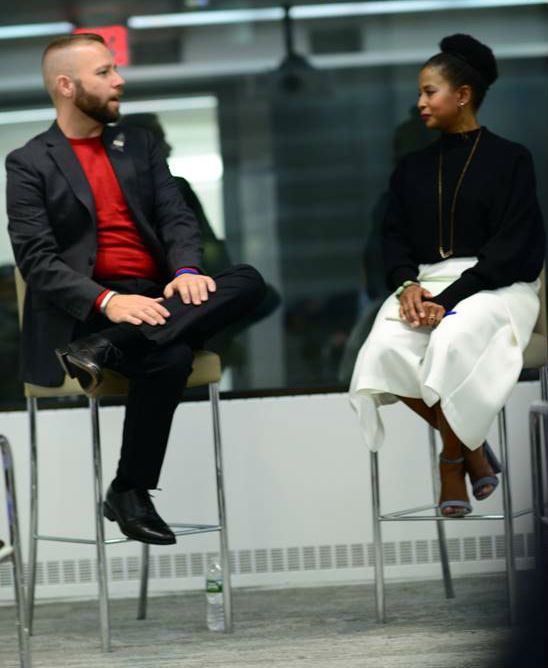 The Federation of Protestant Welfare Agencies (FPWA) convened its Personally Speaking speaker series on Wednesday, September 28, bringing Brian Silva, Executive Director of Marriage Equality USA (MEUSA), together with New York Times reporter Nikita Stewart and FPWA CEO Jennifer Jones Austin, for an intimate discussion on nonprofit leadership and building a platform around social justice issues.
FPWA's Personally Speaking series, Sponsored by American Express, features prominent leaders who help to shape the nonprofit, philanthropic, civic and business sectors in New York City. This installment focused on Brian Silva, his journey to nonprofit leadership, and the fight for marriage equality.
Jennifer Jones Austin, CEO and Executive Director of FPWA kicked off the evening with welcoming remarks and shared FPWA's goal for the evening to bring leaders and social activists to the forefront that have had a tremendous role in helping to shape and transform the city on important issues.
Attendees were engaged with an insightful conversation centered on nonprofit leadership, personal and professional challenges, LGBTQ discrimination today, and what's next for MEUSA. Mr. Silva told his personal journey of becoming a leader, which began when he started a charity in high school for people living with HIV/AIDS. "My strong foundation for social justice came from this and it had a huge impact on me as a leader," Mr. Silva said. He shared how he began phone banking in 2008 when Proposition 8 came to the fore, an experience which led him to volunteer at Marriage Equality New York. "We couldn't win this as LGBTQ people. On a good day, we're 10 percent of the population. We have to put ourselves out there and get people to know who we are. And every community has to do that. That's why advocacy is so important. We have to step out and walk to you and then walk with you back over to where we want to start."
Nikita Stewart artfully led the conversation and asked Mr. Silva about his role in getting Marriage Equality in New York on a national stage and the path he took to become a leader on this issue. She asked him about tactics he used and what he would have done differently. Mr. Silva believes it took losing many anti-marriage battles to make him stop and put some thought into what they were doing wrong. "We learned we had to invest money in testing advocacy with all communities because different messages resonated in different communities," he said.
Photo credit: Brian Silva discusses his personal and professional journey to success as Executive Director of Marriage Equality USA with New York Times Journalist Nikita Stewart at FPWA's Personally Speaking speaker series.
No related posts found...
---