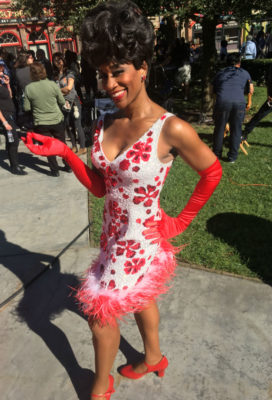 Judine Somerville is a Broadway legend who also happens to be an educator teaching Theatre Dance at the Ailey School, she has performed at Harlem Stage and much more.
So we're not surprised to hear that fourteen years after appearing in the original Broadway production of Hairspray, dancer/choreographer Judine Somerville, will reprise her role as one of The Dynamites in the NBC live presentation of the musical, which will air on December 7th, 2016 at 8/7c.
Judine will join original cast mates, Shayna Steele and Kamilah Marshall for this production, directed by Kenny Leon with an all-star cast that features Maddie Baillio as Tracy Turnblad, and includes Kristin Chenoweth, Harvey Feinstein, Derek Houg, Jennifer Hudson, with special appearances by Billy Eichner, Sean Hayes, Andrea Martin and Rosie O'Donnell.
Judine, a former Radio City Rockettes, is an accomplished musical theatre performer with an impressive list of credits.  She is also known as a motivational speaker who is invited to speak around the country at professional events and schools.  Using her personal story, growing up in an underserved community in New York and making it to the Great White Way, Judine inspires young people in similar circumstances to aim high and reach for the stars, regardless of their situation.
She has developed three programs, each aimed at addressing certain social issues impacting young people.  You Can't Stop the Beat was created to address the issue of bullying by using dance and movement to enhance self-confidence and self-esteem.  Bridges in Rhythm is a high energy, high-paced workout session to invigorate and stimulate a student's ability to concentrate and learn.  This program is usually scheduled in the mornings before students begin class.  Broadway State of Mind is a master class created for those interested in musical theatre as a career and incorporates training in The Art of Auditioning, Dance, Music & Acting, and other critical elements one should be familiar with when entering the Business of Showbiz.
Judine uses every role landed to demonstrate to the audiences she addresses that all things are possible if you are committed, work hard and believe in yourself.  You can bet she will weave her appearance on NBC's presentation of Hairspray into her next speaking engagement at the Lowell High School in Lowell, Massachusetts, where she is set to appear on December 15th and 16th , 2016 for a series of student workshops and lectures.
For more information on Judine Somerville and her master class programs and motivational speaking sessions visit www.justjudine.co, and watch Judine perform with the cast of Hairspray on NBC's Thanksgiving Day Parade and on the live airing of Hairspray on December 7th,, 2016.
No related posts found...
---