---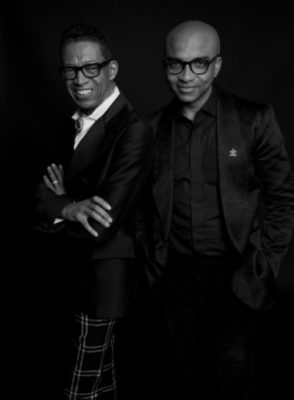 Shenandoah University's Harry F. Byrd, Jr. School of Business proudly presented the 2017 Shenandoah University Entrepreneur of the Year Award to B Michael and his life partner Mark-Anthony Edwards, co-founders of b michael AMERICA. The award was presentated on Monday, November 13, 2017, in Halpin-Harrison Hall, Stimpson Auditorium, on the campus of Shenandoah University.
B Michael is a co-founder, fashion designer, and creative director of b michael AMERICA. Presently, he is the chief designer for the brand's couture and ready-to-wear collections. He received acclaim for designing the costumes for Whitney Houston's last film, "Sparkle," ballet costumes for the Joffrey Ballet's premiere of "Windy Sand," and has received numerous commissions to design for film and television. B Michael started his early career as a millinery designer for the TV show "Dynasty," and later worked as a millinery designer for Louis Feraud of Paris and Oscar de la Renta. B Michael is a member of the Council of the Fashion Designers of America and serves on the board of the Youth America Grand Prix. In 2016, he was awarded the prestigious Design Visionary Award by the Lighthouse Guild.
B Michael's collections have garnered appreciative fans including socialites and personalities such as Harlem Cicely Tyson, Ashley Bouder, Amy Fine Collins, Phylicia Rashad, Valerie Simpson, Beyoncé, Nancy Wilson, Susan Fales-Hill, poet Elizabeth Alexander, and Lena Horne, among many others. He has shown his b michael AMERICA couture collection in Beijing, China, Korea, and Shanghai, and his ready-to-wear fashion line b michael AMERICA RED is sold in Macy's department stores across the United States, as well as online.
Mark-Anthony Edwards is a co-founder and CEO of b michael AMERICA. Edwards is currently the CEO for Advanced American Style, Inc. which does business as b michael AMERICA. Since co-founding the business in 2009, his leadership includes successful startup capital fundraising, using the funds to achieve his vision to launch a ready-to-wear collection distributed through Macy's that would be aspirational and broaden the brand's reach. Most recently, Edwards has focused on business development, raising capital and strategic partnerships aimed at growing the brand and business globally. Formerly, he worked 10 years in wealth management and business management for the private business management firm. Edwards combined his expertise for business and marketing with B Michael to create a business plan and together they founded Advanced American Style and launched b michael AMERICA. He serves on the board of Dream Yard, a nonprofit organization in Bronx, New York.
This event is presented in connection with the business school's Entrepreneurship Week 2017.
Related Articles
---