---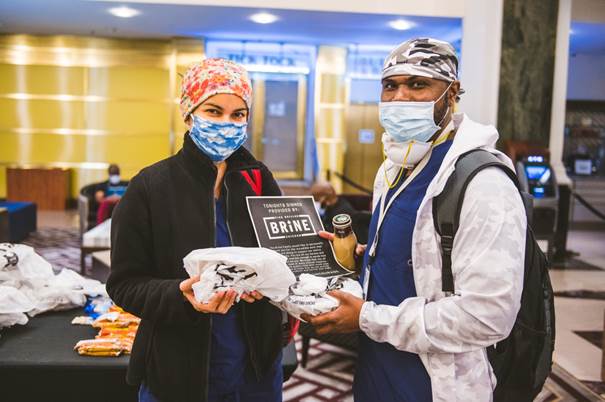 Independently owned and operated New York City restaurant Brine today announced its "Chicken For Courage" campaign today.
The campaign gives dollar-for-dollar in-kind donations of meals to out-of-town healthcare professionals who have come to Manhattan to aid on the COVID-19 frontlines and relegated to living in city hotels.
For every meal New Yorkers order from Brine for take-out or delivery, Brine will donate a meal of the same value to healthcare workers temporarily living at two area hotels that have joined the initiative – The New Yorker and Marriot Marquis Hotels – and currently providing shelter to more than 1,400 healthcare heroes who are many miles away from their homes and families.
After a grueling 12-hour shift and with no access to their at-home kitchens or readily available healthy, hearty food, Brine has galvanized its employees and chicken lovers across the City to feed America's visiting healthcare professionals and make their lives a bit easier.
While an abundance of food is being sent to current and makeshift hospitals set up throughout the City, hotels that are currently home to out-of-town healthcare workers have been overlooked…Brine saw that as an opportunity to fill a much-needed void in this pandemic.
Joe LoNigro, Executive Chef at Brine, said, "Times are challenging, but that doesn't mean we can't find a way of supporting our community; however the bigger issue for a restaurant like ours is raising awareness of the program in struggling times when marketing budgets are non-existent to help drive meal orders and donations."
As history has shown, in times of crisis like these, companies hastily slash marketing budgets across the board as the first thing to cut as it's assumed to be one of the easiest ways to free up cash; yet, case studies continue to show how it's during a time of crisis when businesses need marketing the most.
So to help raise awareness of #ChickenForCourage and inspire more meal orders from New Yorkers quarantined at home, Brine has also partnered with The Hub, a collective of New York City freelance marketers currently left unemployed as marketing budgets and campaigns have been canceled or placed on hold. The Hub assembled 25 of its top talent and is paying each to shoot content in their homes telling the #ChickenForCourage story, while leveraging their business and social networks to help spread the word.
In essence, the campaign – while initially created to provide hearty and healthy meals to visiting healthcare professionals living in hotels with limited meal options – is already showing much needed economic stimulus in New York City.
#ChickenForCourage In Action
Since New Yorkers need to eat and at-home options are limiting, many are ordering take-out and delivery from the closed restaurants offering this service. If they choose to order from Brine – and any of its partners that join the campaign – Brine and those restaurants will donate a meal for every meal purchased and deliver those meals to the participating hotels housing visiting healthcare workers.
Brine and its partner restaurants also will donate a percentage of meal sales to The Hub to employ more freelance marketers to promote the campaign to further drive awareness.
If someone wishes to donate meals without ordering meals for themselves, Brine is also offering a dollar-for-dollar catering credit for all donations over $200, with no limit on the amount it will match. In exchange, Brine with donate that amount in meals and either give the donor a food credit for future catering or they can ask Brine to take that donation, match it, and create double the amount of meals for delivery to healthcare workers. To donate directly or take advantage of this credit for catering offer, donors can simply call 714-883-2926 and Brine will take care of the rest.
The #ChickenForCourage campaign aims to enlist the support of more restaurants, hotels and creatives within New York City to inspire more meal purchases and meal donations to healthcare heroes, all while creating jobs and income for the staffs of restaurants, hotels and the creative community.
"While we want this initiative to help see Brine through these tough times, Chicken For Courage is much bigger than anyone restaurant," said Dan Mezzalingua, CEO of Brine. "At the heart of this concept is the idea that a rising tide lifts all boats; if we can help bring together all the small restaurants finding a way to give back, then funds, resources, promotions, and communications are that much more powerful with broader menu options, more reachable doors, and ultimately more donations."
The brainchild of the campaign, Henry Monsell, a marketer at Dirt Worldwide in New York City who is leading the charge, said, "The hope is, in essence, that in addition to doing the right thing and feeding our visiting frontline workers, we create local economic stimulus and get to show these heroes how much love and gratitude New York has for them."
He continued, "It's really a win-win-win effort – freelance marketers get paid to make and share content on a broad scale to drive awareness, which results in the restaurants receiving more orders that are then matched, so that more and more healthcare professionals receive more and more free meals after their shifts…and this momentum only continues to grow."
Other marketers have stepped up to the plate to provide pro bono services to help shape and promote the campaign including DIRT Worldwide (https://dirtworldwide.com/), The Force (https://www.theforce.is/) and HALL Communications (https://www.hallcomms.com/).
As the #ChickenForCourage campaign continues to thrive, its partners look forward to hearing from additional restaurants and hotels to join the cause to drive positive change and serve the needs of those putting their lives on the line for our benefit.
---