---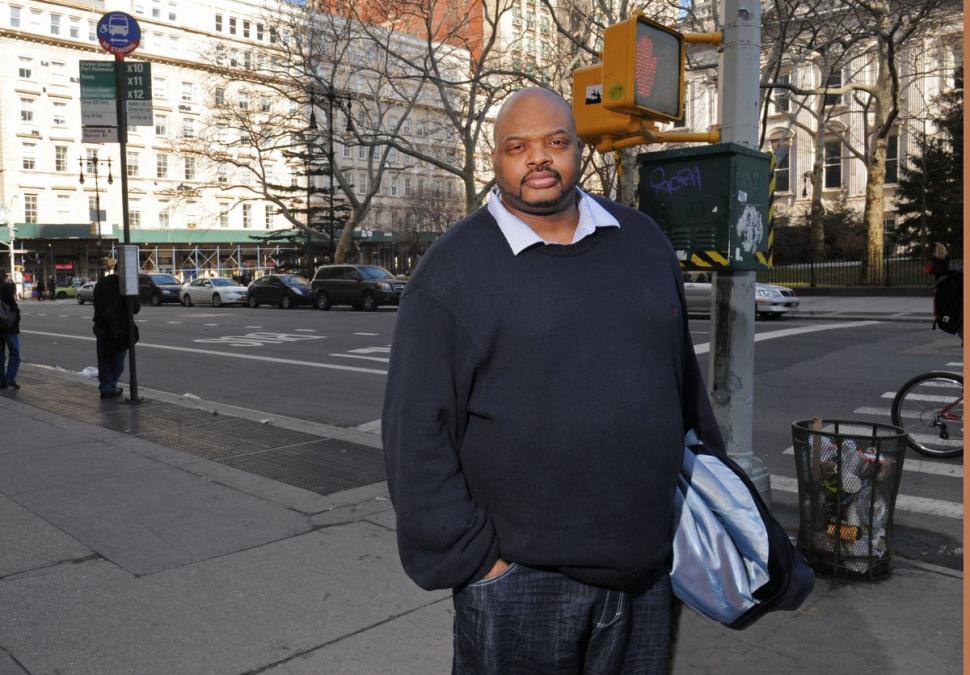 A disgraced former correction officer — convicted of smuggling drugs onto Rikers Island — claims in a sensational new book that he also pimped out a trio of female colleagues to inmates and jail bosses.
Gary Heyward called the jailhouse sex workers "copstitutes" — law enforcement officers who turned tricks. His illicit hustle behind bars earned him so much cash, his city job was merely icing on the cake.
On a typical day, he'd show up for work at Rikers with a laundry list of dreams to grant.
"I had orders for coke, liquor, cell phones and cooch," he wrote in "Corruption Officer."
Heyward was sentenced in 2006 to two years in prison after admitting to attempting to sell cocaine to an inmate and providing another with a cell phone for $500. The former Marine penned the memoir while incarcerated.
Correction officials couldn't immediately be reached for comment on the book, but in published reports they blasted Heyward's tome as a work of exaggeration that taints the reputation of the department.
In the book, Heyward also admits to using his gun and shield in a criminal operation offsite, wielding both as he barreled his way into a Bronx crackhouse one night. Heyward had to shoot his way out as he and an accomplice made off with both the drugs and money.
Heyward, raised in Harlem's Polo Ground projects, served in Operation Desert Storm. Back home, still living with his mother at 29, he considered himself incredibly lucky to be hired by the city Department of Correction in 1996. The break was made possible by the fact that, unlike many of the guys he came up with, Heyward didn't have a rap sheet.
In fact, Heyward was barely in the door when he ran into Biz, his best friend from childhood who was locked up at Rikers.
Biz immediately tapped him to smuggle in a carton of cigarettes as a favor. Only later would Heyward learn that the packs contained marijuana that Biz then hustled throughout the cells.
Heyward claims the pot betrayal turned him mean and cynical.
The profit from the cigarette trade in jail outweighs that of any drug hustle on the street.
At 6-foot-2 and about 260 pounds, he fell readily into his role as an "enforcer" whom supervisors relied on for brute force when things got ugly. In one clash — only after a prisoner's hoodie fell back — Heyward realized that the inmate he and other correction officers were stomping was his old buddy Biz.
But it was purely a need for cash that turned him corrupt. He had outstanding child support as well as gambling debts. When a one-night stand came back demanding money for an abortion, Heyward decided the money to be made smuggling cigarettes was too good to resist. After Mayor Bloomberg banned sales within prisons, a black market erupted.
His routine was to strap the goods to his body and wear his uniform to check in. That meant if the metal detector went off, there would be no call for a search. The trade was incredibly lucrative. A $2 pouch of tobacco would reap more than $200. A trusted inmate, identified as Flocko, handled distribution.
"The profit from the cigarette trade in jail outweighs that of any drug hustle on the street," he wrote. Heyward could now afford the good life. He moved into his own apartment, bought a car and gave in to his gambling addiction. In fact, it was in retribution for what he considered a fixed game where he lost all his money that Heyward robbed the "banker's" drug operation in the Bronx.
It was during this time that a female correction officer came to him to offer a deal. She would move pouches for him if he would offer protection to the ring of three women who were prostituting themselves to inmates and other correction officers. Heyward thought that was fair.
Then Flocko broke it to him that their tobacco business was in peril. Another inmate was bringing in cocaine and it was the preferred product, he wrote. To compete, Heyward would have to step up his game.
"Scared money don't make money," Flocko told him, according to the book.
His first pickup was a half-ounce of cocaine from Flocko's sister. He cleared $1,500 for 15 minutes of work and saw the future.
But there were other ways to expand his revenue.
Inmates could place special orders with him for liquor or cell phones if they wired money to his designated third party. One prisoner's grandmother took a more personal approach. She wanted Heyward to deliver a half-pint and red velvet cake to her grandson behind bars. When she came up short on the $500 fee, he wrote, she gave him oral sex in his van to complete the deal.
Similarly, for $500 he would deliver a small burner phone to an inmate, then lock him in his cell and let him "rock-out" until the minutes ran out, he wrote.
Heyward oversaw a high-classification housing unit. For the most part, his inmates were drug kingpins or charged with murder, sometimes both. Many were also his loyal workers. He arranged for the copstitute, whom he calls Officer Rains, and her "two girls" to be regularly available to them. Everyone was happy.
Read more here.
Photo credit: LOUIS LANZANO/FOR NEW YORK DAILY NEWS Heyward writes that got rich selling drugs, cigarettes and prostitutes to cons and correction officers alike — until he got busted and served 20 months in prison.
Products are provided for purchase through AmazonSmile link to help support Iris House a center for Women living with HIV in Harlem and this site.
---