---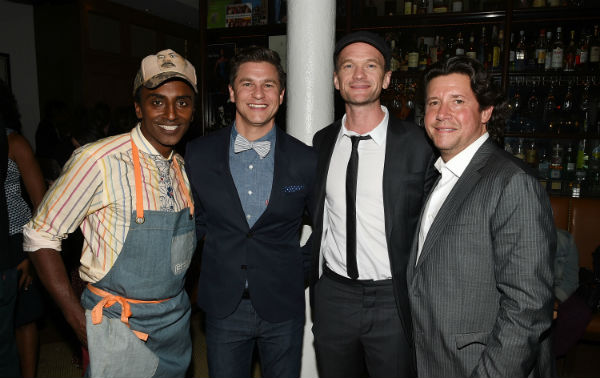 This past weekend, the soulful cuisines, music and art of Harlem took center stage as over a hundred neighborhood restaurants, businesses and organizations—with the support of President Bill Clinton and Mayor Bill de Blasio —participated in the inaugural Harlem EatUp! Festival.
 Co-founded by Marcus Samuelsson and Herb Karlitz, Harlem EatUp! brought festivalgoers together for a four-day weekend of free and ticket events including dinners, culinary demonstrations, panel discussions, and grand tasting-style events celebrating the food, art, music and culture of Harlem.
The festival kicked off on Thursday and Friday nights with notable chefs from across the country partnering with local Harlem chefs for the Dine In Harlem culinary series—a set of collaborative dinners where local and guest chefs teamed up to offer festival goers a memorable Harlem dining experience replete with live musical entertainment by local uptown acts and pairings from Bordeaux Wine Council. Representing the breadth of uptown's hospitality scene, the Dine In Harlem series featured a variety of cuisines, ranging from soul food to Seoul flavors.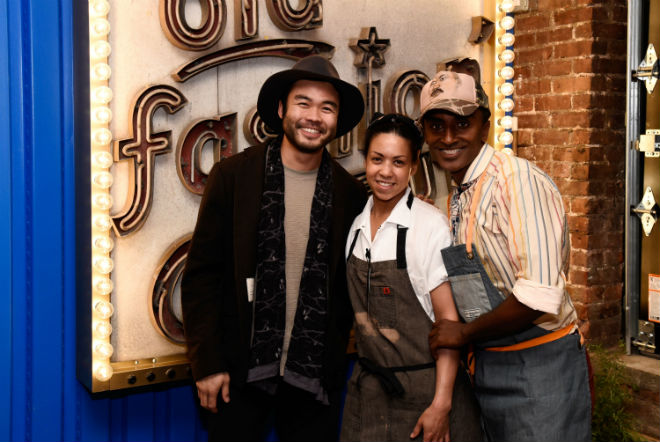 Some of the culinary couplets in the Dine in Harlem series included: Ginny Supper Club's Marcus Samuelsson and Sean Brock, Madiba Harlem'sMark Henegan and Ken Oringer, Melba Wilson of Melba's and Jacques Torres, Dinosaur Bar-B-Que's John Stage and Ludo Lefebvre, and Sylvia's Restaurant's Carlos Brown and Michael White. At The Cecil on St. Nicholas Avenue, Joseph "JJ" Johnson and guest chef Nick Anderer of Maialino collaborated on a seven-course dinner that included Braised Goat with West African peanut sauce, cassava skins, micro cilantro and Cavatelli with pickled goat horn peppers, peas and mint. On Fredrick Douglass Boulevard, Streetbird Rotisserie's Adrienne Cheatham and guest chef Paul Quiserved Bird Broth and Chicken Skewer and Amberjack Filipino Ceviche with coconut milk, coconut vinegar hearts of palm and red onions.
Closing out Friday night's festivities, Chef Marcus Samuelsson hosted the official Harlem EatUp! after-party at Red Rooster Harlem celebrating the amazing culinary collaborations from the Dine In Harlem dinner series.  Co-founders Marcus Samuelsson and Herb Karlitz welcomed Harlem residentNeil Patrick Harris, along with celebrity chefs Alex Guarnaschelli, Marc Murphy, Aaron Sanchez, Ludo Lefebvre, and Ted Allen.
Saturday's festivities began with Sunrise Yoga, at Adam Clayton Powell Plaza, led by Lara Land of the local Land Yoga Studio.  Across the street, at the Studio Museum the Harlem Talks took place throughout the day with panel discussions featuring celebrity chefs (Alex Guarnaschelli, Ted Allen, Daniel Boulud), along with Harlem chefs and artists (Alexander Smalls, Melba Wilson, JJ Johnson, Derrick Adams) serving as panelists—covering topics surrounding the community, the artistic process, and a day in the life of being a chef.
"When you look at old photos of Harlem, you see that the oyster bar was next to the chicken restaurant, that was next to the great diner, that next to the soul food restaurant—and it's clear that there was a vibrant dining scene here," Marcus Samuelsson said during the first panel on the day in the life of a chef. "Harlem EatUp! is not just about looking forward but also looking back and restoring some of that culinary history as well as putting Harlem back on the map."
As the sun shined through the afternoon, attendees gathered in Morningside Park at The Stroll: A Grand Tasting Event. President Bill Clinton, Founder of the Clinton Foundation and 42nd President of the United States, officially kicked-off the day by addressing the crowd gathered in the culinary demonstration tent. "I have been coming to Harlem for more than 45 years. Nothing characterizes this neighborhood more than the food – all the different restaurants, all the people who provided," said President Clinton. "I'm really grateful that somehow you guys got all of these world famous chefs from all over America to come here and cook. I think you did it so you'd have bragging rights – that the locals are better. "
Culinary demonstrations were held throughout the day, once again, partnering the best-of-the-best from Harlem's culinary scene with invited guest celebrity chefs. As attendees walked through the tasting tents, they were able to sample bites from Harlem's top restaurants (The Grange, Lolo's Seafood Shack, Lady Lexis Sweets, Seasoned Vegan) and view the works of local artists (Alexis Duque, S. Whittaker, Alix Delinois) while DJs entertained the crowds.
The weekend concluded with A Sunday Afternoon in Harlem inspired by Harlem's iconic "Gospel Brunch." New York City Mayor Bill de Blasio and First Lady Chirlane McCray joined guests in the park as they sampled fare from local restaurant vendors including Charles' Pan Fried Chicken and Streetbird Rotisserie. Guests were treated to entertainment from local gospel choir Harlem's Gospel for Teens Choir and jazz musicians throughout the day in the performance tent.  Actors Jesse Williams and Neil Patrick Harris, with their respective families, made their ways through the tasting tents taking in the sights and sounds of the festival and Harlem. The Kids' Zone presented by Aetna included interactive gardening, yoga and baking demonstrations. Activations from the New York Knicks and New York Red Bulls included shooting games and an appearance by the Knicks City Dancers and Knicks alumni Cal Ramsey and Larry Johnson.
As part of Harlem EatUp!'s mission and dedication to Harlem, net proceeds from festival ticket sales will be donated to beneficiaries Harlem Park to Park and Citymeals-on-Wheels, two non-profits that provide a positive and direct impact on the Harlem community.
---