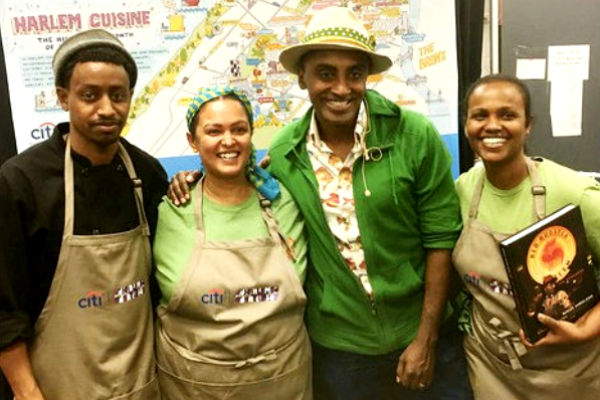 We're kicking off Harlem EatUp! 2017 in style with a tribute concert to the great Billie Holiday, at The Apollo theater! Ten amazing acts including the gospel influenced jazz singer Lizz Wright; the Detroit soul singer Bettye LaVette; Taj Mahal's daughter Deva Mahal, a vocal powerhouse blues singer; seventy-seven year old Stax recording artist and soul-legend William Bell; the great singer-songwriter Ruthie Foster; and more will perform songs from the Billie Holiday discography. One of the highlights will be the Alvin Ailey Dance Company returning to the Apollo stage to perform its modern piece "Portrait of Billie," which originally premiered in 1959.
Get your tickets today to this very special one-night-only event at The Apollo!
Something For Everyone
Fill up on tasty eats at this outdoor event complete with a wonderful sampling of the sights, flavors, and sounds of Harlem.
Experience the Marketplace, a family-friendly experience where tickets are not required and all ages are welcome. You'll get to sample a pay-as-you-go selection of eats from notable Harlem restaurants and food vendors, a wine and beer garden, kids' activities, and the EatUp! Main Stage presented by Macy's where you can see our home and visiting chefs cooking up live culinary demos, as well as performances. Admission to the Marketplace is free and open to all! The Marketplace Package is $25, a $30 value, and is good for food and beverages purchases at the Marketplace.
At our Ultimate Grand Tasting, satisfy your "inner foodie" and enjoy unlimited tastings from dozens of Harlem's favorite restaurants accompanied by an assortment of fine wines, beers and cocktails, all afternoon, in an all-you-can-eat format. Admission also includes access to the Marketplace and EatUp! Main Stage. You must be 21 & over to enter the Ultimate Grand Tasting. Tickets for the Ultimate Grand Tasting start at $85 and are available for Saturday and Sunday.
Citi Market Challenge
Our Founding Sponsor Citi hosted a cooking competition March 28 at Hot Bread Kitchen in East Harlem that challenged restaurants Belle Harlem, Harlem Pizza Co, and Tsion Cafe to cook up what they would serve at Harlem EatUp! Congratulations to all and to the winner, Tsion Cafe with its Ethiopian chicken stew on injera bread. Delicious! Tsion Cafe will be at Harlem EatUp! at both the Ultimate Grand Tasting and in Citi's tent in the Marketplace at The Stroll on Saturday May 20 and Sunday May 21 in Morningside Park. Come taste what all the fuss was about! Thanks to Citi for supporting Harlem restaurants and putting on such a fun event. 
Bordeaux Pop Up Tasting
The restaurants participating in our  Dine In Harlem Series tasted through over 100 amazing Bordeaux wines at this Harlem event April 3 and are now deciding which ones to pour at their Dine Ins! Each course they serve will be paired with a Bordeaux wine: could be a sparkling, a white, a red, a rosé, or a dessert wine. Bordeaux makes them all! Thanks to Bordeaux Wine Council (official wine sponsor of the Dine-In Harlem dinners) for organizing. Get your tickets to one of the Dine Ins and taste the food, and the wines, that celebrate Harlem's ever evolving culinary landscape!
Harlem EatUp!, 200 West 41st Street, Suite 1004, New York, NY 10036
---
---
Related Articles