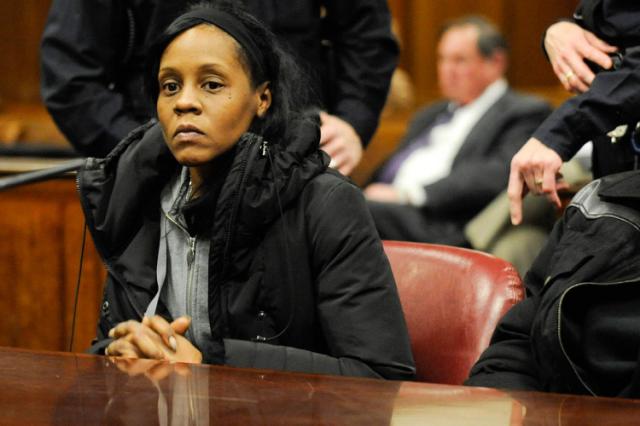 The wife of a Harlem drug dealer tried to profit on a nearly half-million-dollar profit by selling their apartment, which she bought from the city for just $250, but Manhattan prosecutors are saying, not so fast — because the couple turned the pad into an "angel dust" den.
They want the profit seized as illegal gains from the drug business​, saying in the court documents that by 2010, her husband, Lamont Moultrie, had turned the building at 101 W. 115th St​.​ into the hub of his business. Nicole Moultrie bought the apartment in 2004 as part of a city program to encourage home ownership for low​-​ and middle-income families. She sold it last year for $430,000, prosecutors said in court documents filed this week.
The place reeked of ​drugs and chemicals, officials said. The vacant apartment next door to the Moultries' became a storage closet for PCP and supplies. Crack cocaine and 9mm bullets were found in the basement.
Police and prosecutors mounted a 15-month investigation into the group, including wiretaps, documents show.
"You left a bag of [angel] dust on the washing machine downstairs," Nicole told Lamont in a January 2012 conversation recorded by authorities.
"Who got it?" Lamont asked.
"I got it," Nicole responded, "You can smell that as soon as you walk in there."
He later said, "How the f–k did I forget that sh-t?"
Prosecutors said the crew made $1.5 million in profit​s between January 2011 and January 2012.
The Moultries and her mother, Doris Smith, were among the 36 people ​indicted when officials smashed the ring in 2012.
Nicole pleaded guilty to a litany of charges, was sentenced to four years in prison and is now out on parole, court papers show.
Lamont Moultrie is serving jail time after pleading guilty to drug trafficking.
Four years after the bust, a crowd of longtime residents said they still live in fear of the crew that turned their building into a drug depot.
"Oh no, we're not discussing that. Why? Because these are dangerous people you're talking about," said one woman. "You never know who people know — and I don't want them knowing me."
Said another, "A few years ago, people you never wanted to meet in your life were hanging around inside the building and outside on the corner. And no one ever did anything about them. Some of those people I still recognize on the street today."
Via NYPost
Related Articles
---
---