---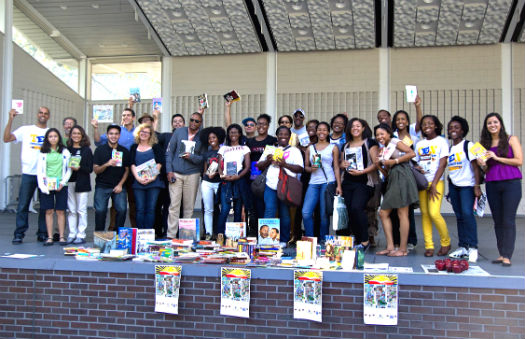 Last week, Total Equity Now (TEN) all-volunteer team delivered 2,343 new and like-new reading treasures to children and their families in shelters in East, Central, and West Harlem.
Fueled by the holiday generosity and dedication of individual Harlemites, local colleges, small businesses, community organizations, and their volunteers, this year's Literacy Across Harlem Holiday Book Drive haul brings our four-and-a-half-year total to nearly 15,000 books.
Expenses for this year's drive (rental vehicles for book pick-ups and deliveries, breakfast and holiday treats for book-sorting volunteers, materials, advertising, etc.) came to just over $500–so, less than $0.22 per new/like-new book. Their heartfelt thanks to those of you who stepped forward earlier this month with timely donations; because of you, they're close to breaking even.
If you haven't made a tax-deductible contribution in 2016 to support the Holiday Book Drive or one of their other outstanding volunteer-driven projects, please consider writing a check today to pave the way for their 2017 initiatives!
Top Three 2016 Holiday Book Drive Donation Sites
2016 Literacy Across Harlem Holiday Book Drive Partners (Full List) 
Box-Wrapping/Book-Sorting Volunteer Delegations 
Book-Sorting Project Host
---