---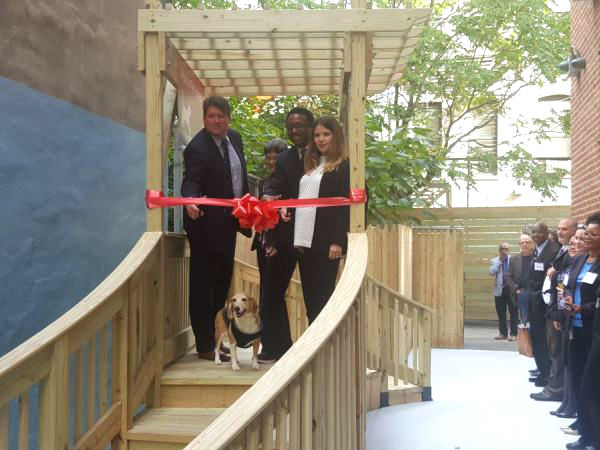 When deciding whether or not to flee an abusive relationship, 48 percent of women choose not to leave out of fear of what may happen to their pets, according to Dr. Kurt Venator, a veterinarian with Purina. And 70 percent of domestic violence victims report that their abuser has threatened, injured or killed their pets.
These statistics are why Purina and the Urban Resource Institute (URI) have partnered to provide the resources necessary for women seeking safe haven to bring their pets to a shelter, said Nathaniel Fields, president and CEO of URI.
This month — October is domestic violence awareness month — the URI opened its third URI PALS (People and Animals Living Safely) pet haven at its Urban Women's New Beginnings shelter in Harlem. The pet haven provides a space where survivors of domestic violence can bring their pets to live inside a shelter and still enjoy outdoor space.
"Any victim of domestic violence will not be put in that impossible situation to choose, 'Am I going to seek safety at the expense of my pet?' It's not going to happen," Fields said.
URI established its first PALS shelter in 2013 as a pilot for smaller pets and animals, but have evolved the program to support dogs. The Urban Women's New Beginnings shelter is the third shelter run by URI that accepts pets, and is the reason why Ms. Blue (anonymity provided for domestic violence survivor) was able to escape her abusive relationship of 15 years.
Ms. Blue, a mother of two, almost considered going back to her abuser because she was having trouble finding a shelter that would let her bring her daughter's pet turtle. But when she was connected with the Urban Women's New Beginnings shelter over the phone the voice on the other end asked Ms. Blue if she had pets. When she said she had a turtle, she was shocked when the voice on the other line said it was no problem.
"I felt like this was meant for me, leaving the situation and not going back and just having the strength to leave and make sure that we were safe," Ms. Blue said. "Hearing they could take my turtle, my baby, one of my children, in with me that meant more to me than anyone knew."
Ms. Blue said that over the years she formed a strong connection with the pet, and that when her abuser would leave the house she would find comfort in talking with the turtle.
"I can only hope that more people, organizations, safe havens jump on board with this because a lot of reasons why we stay as victims is our children, and our pets are our children too," Ms. Blue said.
"And if we could just bring them with us, our family will be complete."
Via source
Related Articles
---