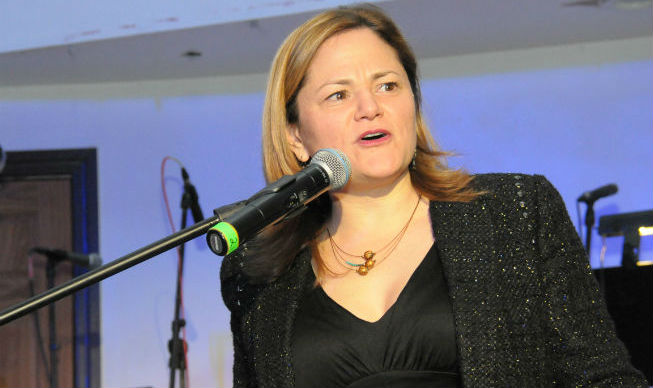 Department of Consumer Affairs (DCA) Commissioner Julie Menin and Department of Health and Mental Hygiene (DOHMH) Commissioner Dr. Mary T. Bassett today announced the launch of the City's public awareness campaign
to educate users, potential users, caregivers, and retailers about the dangers of synthetic cannabinoids, drugs commonly known as "K2."
The campaign and the jointly-hosted summit are part of the City's multi-agency strategy to combat the sale and use of K2, a dangerous drug that can have severe health effects, including death. The sale of K2 now carries stiff civil and criminal penalties in New York City.
The City's campaign advertisements highlight that K2 is marketed under numerous brand names, and that all forms of K2 contain "0% marijuana" and are "100% dangerous." Advertisements launch today on bus shelters, phone kiosks and businesses in neighborhoods where there has been heightened use and sale of the drug. In addition to outdoor advertising, DCA will also be mailing more than 9,000 postcards to its cigarette retail dealer licensees, which include delis, grocery stores, and bodegas, to inform them that "no matter what you call it, K2 is unsafe and illegal." The postcard warns of the consequences of selling K2, which include up to a year in prison, fines of more than $100,000, prosecution under federal law, closure and eviction as a "public nuisance," and suspension or revocation of their DCA cigarette retail dealer license. A window cling is also available for businesses to affix to their windows or doors, indicating their commitment to refrain from selling K2.
 A half-day summit, K2 in NYC: Combating the Public Health Threat, is being co-hosted today by DCA and DOHMH at Brooklyn Law School. The event will convene close to 200 City and non-profit employees, including first responders, judges, prosecutors, social service providers, public and mental health providers, law enforcement, and others to discuss efforts to combat K2. Speakers will include City Council Speaker Melissa Mark-Viverito, Brooklyn Borough President Eric L. Adams, DCA Commissioner Menin, DOHMH Commissioner Dr. Bassett, Drug Enforcement Administration Pharmacologist Jordan Trecki, Ph.D, as well as officials from the New York City Police Department and the Health and Hospitals Corporation.  
"K2 is a terrifying and unpredictable drug – a user never knows what combination of chemicals they may be getting and how it will affect their mind or body," said Department of Consumer Affairs Commissioner Julie Menin. "The false marketing of K2 as herbal incense or potpourri, coupled with packages featuring colorful cartoon characters, misleadingly portrays these products as safe and legal, which violates the City's Consumer Protection Law. As part of our collaborative efforts, the City is committed to dispelling these myths, educating New Yorkers about the dangers of K2, and punishing those who put New Yorkers at risk by selling it."
"The New York City Health Department continues to be concerned about the health effects of synthetic cannabinoids like K2," said Health Commissioner Dr. Mary T. Bassett. "We know that the those most affected are the residents of our poorest neighborhoods, residents of shelters, and those with psychiatric illness. Additionally, in New York City an older population bears the brunt of the health consequences from this drug—99 percent of patients presenting in New York City emergency departments with adverse symptoms of K2 are aged 18 and older. The goal of this summit and our new awareness campaign is to raise awareness, find a way to help those who need it the most, and reduce the prevalence of K2 in New York City."
"New York City is using all available tools to deter production, sale and use of this dangerous drug," said Elizabeth Glazer, Director of the Mayor's Office of Criminal Justice. "Today's convening of public health and public safety leaders, as well as the launch of a public education campaign, add to the targeted enforcement, strategic regulation, and health monitoring the City is already pursing  to ensure that this drug no longer harms New Yorkers."
"K2 is a deadly drug that targets some of our City's most vulnerable New Yorkers," said Council Speaker Mark-Viverito. "From strengthening penalties against those who sell illegal synthetic cannabinoids  to leading a multi-agency tour to increase enforcement, the City Council has been leading the charge in taking K2 off our streets and I thank my colleagues in government for organizing this important summit."
"Misinformation about synthetic cannabinoids has led some to believe that K2 is relatively safer than other illegal drugs," said Council Member Vanessa Gibson. "That is simply not true. K2 is a dangerous, inconsistent substance that does not belong in on our streets, in our bodegas, or in the hands of our children. Education is an important part of prevention and I am thankful to DCA Commissioner Julie Menin and DOHMH Commissioner Dr. Mary Bassett for launching a citywide campaign to provide the public with clear and accurate information about the dangers of K2. This public awareness campaign will enhance the city's already robust response to K2 and I am proud to be a part of the continued effort to rid this substance from our communities."
"As we all know, K2 is a very dangerous synthetic drug that can have life threatening side effects. We must do everything in our power to prevent people from using this drug. The undertaking of this citywide K2 public awareness campaign, coupled with the recently enacted Council legislation, are very important steps that have the potential to save many lives," stated Council Member Rafael L. Espinal, Jr., of Brooklyn and the Chair of the Council's Consumer Affairs Committee.
---
---
"We are dealing with a killer drug here," said Council Member Dan Garodnick. "Potential users need to understand the health consequences, and businesses need to step up and help us in this fight."
"The laws we made to stop the spread of K2 represented the first of a series of steps designed to dissuade the public from using these toxic substances," said Council Member Ruben Wills. "Our commercial deterrents will now be complimented by an aggressive media campaign aimed at the individuals and merchants prone to being lured by this deceptive drug. It will counter K2's many falsehoods with timely medical data about its harmful effects, and issue fair warning to store owners about the consequences of selling synthetics. As we get the word out, we will continue to emphasize treatment over incarceration for substance abusers, and advocate for greater access to supportive services for those in need of them."
"Call it K2, Spice, Green Giant, or whatever you choose – this drug is a dangerous poison hidden in cartoon packaging," said Council Member Eric L. Adams. "Since sounding the alarm on this public health crisis several months ago, we have seen real progress in the strengthening and enforcing of laws to protect New Yorkers from those trying to sell or manufacture K2. Now, I join with Commissioner Menin to further proactive efforts, including a robust public education campaign, that will separate fact from fiction as we combat this toxic menace."
"I applaud the City of New York for legislatively cracking down on K2 and spreading awareness that this dangerous synthetic drug is nothing like marijuana in an effort to stem this public health epidemic," said State Senator Jeffrey D. Klein. "Our battle against K2 doesn't end at the city borders and we must K.O. K2 throughout New York State to effectively stamp out its sale. I proudly sponsor a complimentary solution, a statewide analog law, which will keep our city and state ahead of the chemist's curve by banning K2 and other synthetic drugs every time their chemical composition is tweaked."
The administration's combined public health and law enforcement approach target a drug that appears in various toxic forms. Synthetic cannabinoids are leaves sprayed with unpredictable and diverse chemical combinations that are either smoked or ingested. The drugs go by a variety of names, such as K2, Spice, Green Giant, and Caution and produce adverse consequences ranging from agitation to vomiting to tremor seizures to hallucinations to violent behavior.
Since January 2015, there have been more than 6,000 synthetic cannabinoid-related emergency department visits in New York City. There have also now been two confirmed K2-related deaths in NYC. Males account for approximately 90 percent of these emergency room visits. Patients have a median age of 37 and are disproportionately residents of shelters and individuals with a psychiatric illness. Nearly all – 99 percent – of patients are age 18 and older.
Since July, the City, through several multi-agency enforcement actions, has inspected nearly 30 businesses and seized more than 10,000 packets of K2. DCA has issued, and will continue to pursue, violations for inadequate and misleading labeling. On October 20, 2015, Mayor Bill de Blasio signed into law three bills to increase violations for those who sell or manufacture the drug.
This September, the City also partnered with the Drug Enforcement Administration to conduct searches of five processing facilities that resulted in the seizure of about $17.5 million worth of K2 product, ingredients and paraphernalia – including at least 200 kilograms of synthetic compounds used to make K2, and 150,000 packets of finished K2. Ten individuals were indicted in connection with the drug ring and federal charges are being pursued by the Manhattan U.S. Attorney's Office.
Led by the Mayor's Office of Criminal Justice, the multi-agency effort includes representatives from the New York City Police Department, the Department of Consumer Affairs, the Health Department, the Health and Hospitals Corporation, the Law Department, the Department of Homeless Services, the Sheriff, and the New York State Attorney General's office.
Related Articles
---