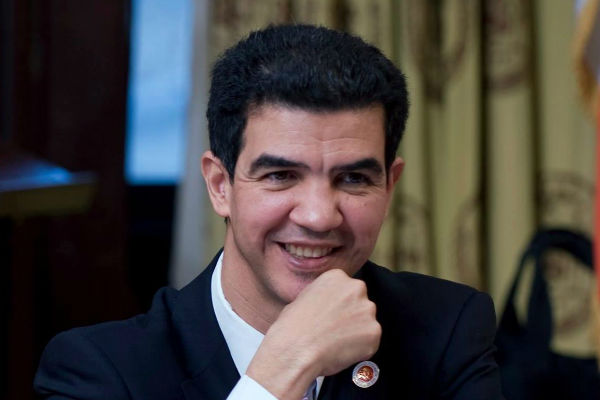 Joined by advocates and fellow elected officials, Council Member Ydanis Rodriguez, Chair of the Transportation Committee, announced that the committee over which he presides voted on favor of Introduction 1463.
The bill would require that would require the City to set up an alert system for hit-and-runs.
Bill 1463, which was first introduced on February 2nd, 2017 and heard on May 2nd 2017 by the Committee on Transportation, will be named after Jean Paul Guerrero, better known as DJ Jinx Paul, who was killed by a hit-and-run driver on December 19th, 2016. DJ Jinx Paul was a DJ for the popular radio station La Mega 97.9 FM. He was crossing the street in Highland Park, Brooklyn, when a Hit and Run driver slammed into DJ Jinx Paul, ending with his life and fleeing the scene.
The alert system will provide rapid notification to the public relevant information, such as makes and models of cars involved in hit-and-runs resulting in serious physical injuries or death occur. Amber Alert-like system would help the NYPD to identify the suspects for arrest.
Council Transportation Committee Chair Ydanis Rodriguez said, "Hit and runs have become terribly frequent in our City. Drivers that have caused serious physical injuries to victims must be held responsible and assume the consequences of their actions. Along with the alert system, we also need more officers assigned to the Collision Investigation Squad in the NYPD that investigates traffic crashes. I am confident these measures will help us in achieving our Vision Zero goals."
Nearly 40,000 hit and run crashes occurred in 2015. 4,000 involved pedestrians, cyclists or other drivers and over one per week resulted in serious injury or death, of which just over half led to arrests. These staggering numbers show how great this crisis is on our streets and are what the measures introduced by Council Member Rodriguez aim to address.
A similar bills were introduced at the state level in February 2017 by Senator Marisol Alcántara and Assembly Member Carmen de la Rosa. Senate Bill S4257B and Assembly Bill A05261 would establish a "yellow alert system" for law enforcement to publicize vehicle information in instances of hit-and-run accidents in which a person has been killed.
"The tragic death of DJ Jinx Paul is only one of many such tragedies that occur on New York streets. I applaud Councilmember Rodriguez for his work responding to the incident in the City Council, and look forward to working on passing my bill, S. 4257B, in Albany. It's important that we grant police departments the flexibility to alert the public when a hit-and-run incident occurs, and the passage of this bill on the city level is an important step forward towards this goal," said Senator Marisol Alcántara.
"Hit and runs have become pervasive and it continues to happen in a alarming number in our City. These inhumane and cowardly acts have to stop because lives are being lost and people are left with serious injuries as the end result. Implementing this alert system will help authorities to gather more evidence as quick as possible and meanwhile keep people alert should they identify any information that can lead to the capture of these suspects. I applaud Council Member Rodriguez for taking the lead to address such a devastating and staggering statistic," said Assemblywoman Carmen De La Rosa. "We are working to emulate the same legislation statewide to end this unscrupulous and insensitive act across the State."
Jean Paul Guerrero's family Statement: "The hit and run alert would help to get an investigation underway at a faster pace. It would help track down irresponsible drivers that leave the scene of the crime and help alert the general public that a dangerous driver is on the road. Such a system would also give peace of mind to the families of the victims because It will show them that they are not alone in seeking justice for the victim. The use of the Amber alert system would also make drivers more cautious when driving and if something happens, it will make them think twice about leaving the scene of such a tragedy. I know that we and loved ones would have had a bit more at peace if such a program was active at the time of Jean Paul's tragic death. Please vote to pass this bill for the peace of mind and sense of justice it will give to future families that suddenly experience this sort of tragedy."
"We applaud Council Member Rodriguez's tireless efforts to tackle the epidemic of hit-and-run crashes through this important legislation," said Paul Steely White, executive director of Transportation Alternatives. "Each time a hit-and-run driver gets away, it increases the chances that another innocent New Yorker will be killed. New York City must bring all the resources possible to bear to apprehend drivers who leave the scene and send a strong signal that type of crime will not be tolerated on NYC streets."
---
---
Tim Tompkins, President, Times Square Alliance, said "In an increasingly congested city – especially in the high trafficked areas like Times Square – we need to do all we can to protect pedestrians, cyclists, and other drivers from this type of crime and ensure that cars, pedestrians and cyclists can maneuver the streets and sidewalks safely."
"Last year, some 4,000 drivers in New York City fled crashes in which they had caused injuries – or worse – and were never caught. This bill will help make a significant difference in reducing those unsolved crimes. We applaud Council Member Rodriguez for advancing this important effort to address the epidemic of hit-and-run crashes," said Eric McClure, Executive Director of StreetsPAC.
"The recent upsurge in hit-and-runs in our city highlights the need for a stronger emphasis on obtaining valuable information from responsive citizens. Many times, public servants must use their constituents as their eyes and ears. It is in this same vein that we must establish a program of public notification for hit-and-run crashes. This system would work similarly to that of the Amber Alert System, and will honor the memories of every victim of a hit-and-run by assisting the community in tracking down and holding accountable these reckless drivers. Far too many of these incidents remain unsolved, and that is why I place my strong support behind this effort," said Council Member Vincent Gentile.
"We all have a stake in making sure our streets are safe, and this legislation empowers every day New Yorkers to be part of the solution," said Council Member Margaret S. Chin. "By providing the public with crucial pieces of information related to hit and run crashes, this legislation will help ensure that suspects who cause these tragic collisions will be held accountable. Thank you to Council Member Rodriguez and my colleagues for your efforts to achieve Vision Zero."
"Today reminds us of our commitment to making our streets safer. This new hit and run alert system will provide useful reporting information to both the city agencies and the citizens of New York City. We must always remember it is our collective responsibility to find new ways to improve, to evolve, to identify new ways making the streets of New York City even safer. Once again, I would like to thank the Council Member Rodriguez and the Transportation committee for its longstanding commitment to continuous safety improvement. We will continue our work to enhance pedestrian safety by reducing hit and run crashes in our city," said Councilmember Carlos Menchaca
"These acts of cowardice need to come to an end," said Council Member Stephen Levin. "For the sake of victims, their families, and our community, we need to stand up and protect ourselves from reckless drivers. This bill puts all of those who would threaten our lives on notice. We will not be complicit and we will not be complacent. I'm proud to support Chair Rodriguez in his tireless advocacy on behalf of all New Yorkers, and we will not stop until the job is done."
Related Articles
---