---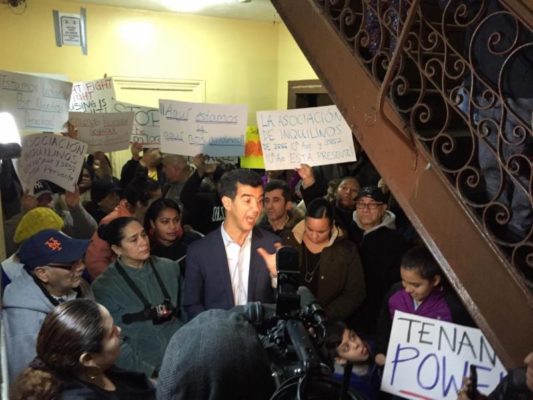 Tenants at 3852 10th Ave and 3856 10th Ave in Inwood are fighting back against their landlord, Julian Rodriguez, the property manager Kitty Huang and its associated LLC, Confe Realty, after 17 were left hospitalized from a gas leak on Saturday, January 7th. The tenants were supported at a rally this evening by their elected officials, Uptown Council Member Ydanis Rodriguez and Assembly Member De La Rosa as well as Urban Homesteading Assistance Board and the Tenant Rights Coalition (A Partnership of The Legal Aid Society and Legal Services NYC).
The residents of 3852 10th Ave and 3856 10th Ave have lived with lack of repairs and consistent patchwork repairs over the years, and longtime residents are living in deplorable living standards. The two buildings have more than 450 open violations combined and have reported infestations of vermin and roaches.
Last Saturday, January 7, 2017, a tenant called 911 when she realized that she and her family were experiencing similar symptoms such as headaches, dizziness, and nausea.When FDNY arrived, they verified that many tenants were being intoxicated by unsafe carbon monoxide emissions which were being released from the building boiler. 17 tenants had to be hospitalized. Along with hazardous living conditions tenants have long-suffered intermittent heat and hot water. With the assistance of UHAB and LAS, as well as support from elected officials and governmental agencies, the tenants have joined together to fight for their right to safe, decent, and habitable living conditions.
Council Member Rodriguez announced the support of the NYC Housing Preservation and Development's enforcement unit, which has put the building in its "Proactive Preservation Program" and is currently conducting a survey of the building to locate all safety violations in the building. This effort helps the city gain a complete picture of a building's condition before pursuing actions to hold the landlord accountable.
"It's despicable when a landlord refuses to make vital repairs, allows tenants in their buildings to freeze during the coldest months of the year and remains unresponsive to concerns," said Council Member Ydanis Rodriguez. "It should be criminal to have residents get sick from a lack of boiler repairs, forcing them to go to the hospital. I remain fully committed to supporting these tenants and we will do everything we can to ensure justice is served."
"This community refuses to let its tenants face such deplorable living conditions," said Asseblywoman Carmen De La Rosa. "We're ready to take this fight to the end to see that these resident receive justice, on top of the quick repairs needed to live in comfort."
"I am not only fighting for my individual rights as a tenant, and for my family, but also for the community that we have formed in our tenant association; my neighbors are my community and we are all living with bad conditions," said tenant Jessica Quiridumbay. "We have to stand together, not only to demand better repairs but to be treated with dignity by management."
"After my family and I had to hospitalized on Saturday January 7th, 2017 after being intoxicated from the carbon monoxide emissions, I have been left with this insecurity that I am not safe in my own home," said tenant Danny Vallecillo. "It is the most basic right we are asking for: to be assured that we are safe in our own homes."
"This year, it'll be 14 years that I have lived in this building and I have experienced the same issues over and over again," said tenant Asuncion Sanchez. "Personally, I am tired of the patchwork repair that is done in our apartments. I have thought of leaving but rents in NYC are extremely high and I also realized that the next tenant who would take over my apartment if I were to leave would experience the same issues and it would be a never-ending cycle. I want the cycle of harassment, patchwork repair to end with me and my neighbors."
"Through working with the tenant association over the past 8 months, I have seen the extreme conditions that plague the building and tenants' apartments. Serious work needs to be done not only in the apartments but in the building itself. Property Managers like Kitty Huang believe they can treat tenants however they want and provide inadequate repairs," said Nancy Torres, Lead Tenant Organizer at the Urban Homesteading Assistance Board. "She has chosen the wrong tenants -today the families of tenants at 3852-3856 10th Ave have united with their attorneys, advocates and local elected officials to fight for their rights as tenants."
Related Articles
---