---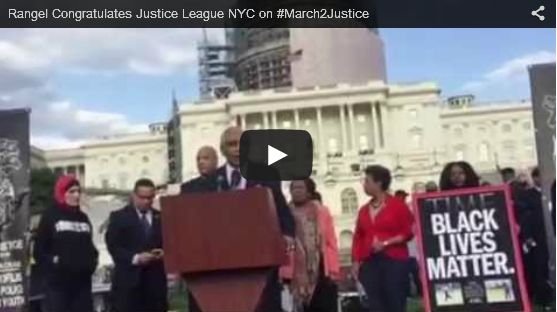 Congressman Charles B. Rangel greeted and congratulated the Justice League NYC marchers who walked 250 miles from New York City to Washington, DC to bring awareness to issues regarding juvenile and criminal justice. The Justice League NYC marchers included people of all ages, faiths and backgrounds, brought together in the common cause of juvenile justice reform. It was led by the Director of Gathering for Justice Carmen Perez and co-chairs Linda Sarsour and Tamika Mallory from Harlem. Founded by Harry Belafonte in 2005, The Justice League NYC was brought together under the banner of Gathering for Justice, and continues to work together in pursuit of "viable, implementable juvenile justice reforms for New York City and New York State." Their #March2Justice began on April 13, 2015 and was completed on April 21, 2015 and culminated in a rally in front of the U.S. Capitol.
Here are the Congressman's remarks:
"My brothers and sisters, congratulations. Let this just be the very, very beginning of a movement that should take over the United States of America. In the 1960s, I was invited to march with Dr. King from Selma to Montgomery. I didn't intend to March those 54 miles. I went down there to have my picture took. But when I got down there and saw all of the people that were prepared to die, I said the least I can do is to walk with John Lewis and to walk with Andrew Young.
Now I want you to know that I walked those 54 miles and I cussed every darn step of the way. I had bad feet, wasn't prepared but the message I want to give you is that I had no idea that as a result of that march we would get the Voting Rights Act, the Civil Rights Act. I had no idea! That Dr. Martin Luther King was prepared to die and did in fact die. And so what I'm telling you today is that I hope as then our religious leaders, whether they are Muslims or Christians or Jews, that they would come together and recognize their calling is for the lives of people, whether they are sending them to the Middle East to die for causes they have no understanding or whether they are training them to shoot down young Black people because they don't have no understanding.
If it gets me on Democrats, Republicans or Tea Parties. If it gets me on the Klu Klux Klan and racists, then we have to ask those people who are tax-exempt. Let me make it abundantly clear; those groups who are exempt from taxes that get all of these callings. It's not about same-sex marriage, it's about how we can live together in peace and in justice.
So next time we should have priests and ministers, and imams and rabbis because this is America, this is the world cause. So congratulations. You may not feel all riled up now. But one day you should be able to tell your kids and your grandkids that you were one that marched from the city of New York, the streets of Harlem and Bedford Stuy, and you came to your nation's capitol when people were acting like they did not know what was going on in this country and because of people like you, we got the people, we woke 'em up, we shook 'em up and we told them that we didn't march for ourselves, we marched to save this society.
God bless you, march on, right on, don't give up, don't give out and for God's sake don't give in."
Check out the video:

Related Articles
---