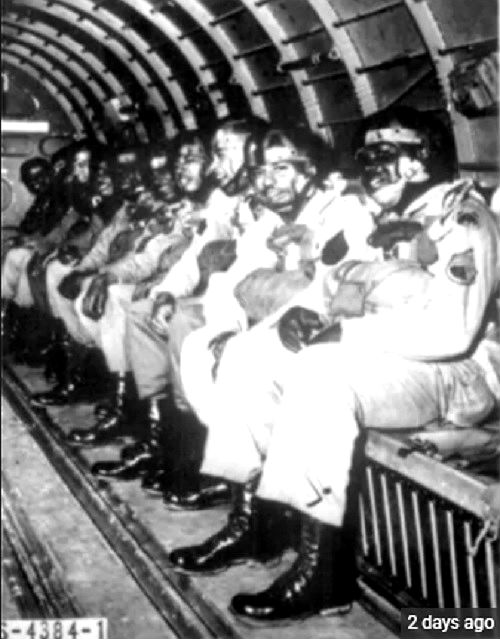 Clarence Beavers stated he was born on June 12, 1921 at West 134 Street, Harlem, New York. And was the 15th child of the 16 sons and daughters given birth to by his parents, and was named Clarence Hylan, after the mayor of New York City, who was my Godfather as he stated in Triple Nickel.
He attended Public School 5, located between 140th Street and 141st Street on Edgecombe Avenue, from the first grade to the sixth grade. Edwin W. Stith Junior High School and George Washington High School.
NY Newsday reports that Beavers and hundreds of black paratroopers in the segregated military were far from Europe in 1945, part of a secret mission to neutralize Japanese bombs causing forest fires along the northwestern United States and Canada.
The year before, Beavers and 19 of his peers were part of a "test platoon," 17 of whom passed the military's first training for black paratroopers. The graduating class grew into a large battalion comprising hundreds of African-Americans who spent nearly a year fighting the fires and bombs.
The U.S. government disclosed few details of the mission to prevent the Japanese from learning about the successful launches.
Beavers, the last survivor of the test platoon that formed the "Triple Nickels" — or the 555th Parachute Infantry Battalion — died Dec. 4 of natural causes at home. The longtime Huntington resident was 96.
Blocked from important military opportunities overseas, 20 African-Americans were invited to train in 1944 to partake in the "Operation Firefly" mission with the U.S. Forest Service to confront the attacks.
Beavers had trained and passed tests in the military just like his white peers. But black men were denied important military assignments.
"They were very heartsick after all their training, that they had done everything and passed everything they had to do, that they were not able to go overseas to join the rest of the fighting men," said Edolene Beavers, 86, his wife of 59 years. "This was a way for them to serve."
Lincoln Bramwell, chief historian of the U.S. Forest Service, said "they essentially weren't allowed to fight in the European theater. They were ready to go, and couldn't find a command that would take them on and let them fight."
Photo: Clarence H. Beavers with the paratroopers 555th Parachute Infantry Battalion second from the right.
Related Articles
---