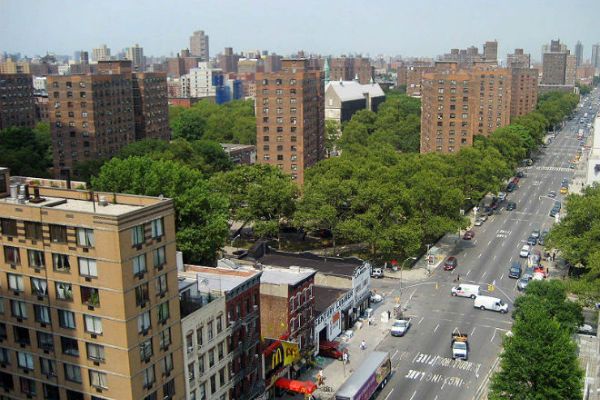 The Mayor's Office of Special Enforcement is bringing a lawsuit against a Manhattan landlord who turned his four-story walkup into an illegal hotel through www.Airbnb.com. The hotel operated for years despite persistent complaints, enforcement actions and fines against the operation.
Christian Klossner, Executive Director of the Mayor's Office of Special Enforcement, said, "If a landlord persists in illegal activity despite complaints from residents and violations from the City, then we will elevate our response to safeguard its rent-stabilized housing stock and protect New Yorkers and visitors from the dangers of illegal hotels."
"There must be zero tolerance for illegal hotels" said Council Speaker Corey Johnson. "In addition to depleting our housing stock, illegal hotels put lives at risk by flouting the basic fire and safety regulations that apply to hotels. This lawsuit sends a strong message to landlords across the city that we will not tolerate such practices. I want to thank the Mayor's Office of Special Enforcement for bringing this lawsuit forward and we look forward for justice to be served."
Illegal transient use in the nine-unit Chelsea building at 156 West 15th Street (near 7th Avenue) appeared to increase over time. In August 2014, the Office of Special Enforcement uncovered two apartments being unlawfully rented while in September of 2017 OSE investigations found illegal hotel use in six out of nine units.
The building has been the subject of at least thirteen illegal hotel complaints since 2014, 23 building and fire violations, three criminal summonses, and one advertising summons. Currently, more than $11,000 worth of penalties for building and fire violations have been imposed or paid.
The case represents the eleventh lawsuit the City has brought against landlords or operators for illegal hotels.
Last month, a landlord paid a $1.2 million lump sum in what was the largest ever settlement with the City in an illegal hotel nuisance abatement case.
In November 2017, another building owner who illegally converted dozens of housing units in two buildings into hotel rooms agreed to forfeit $1 million, which included a $201,500 payment to the City plus a $798,500 credit amount for approximately three years of rent forgone.
The neighborhood of Chelsea has been particularly hard-hit by illegal short-term rentals and the depletion of rent stabilized apartments.
The defendants in the suit include 156 West 15th Street Chelsea LLC, its head officer and managing agent Dr. Philip Baldeo and operator Miguel Guzman.
"Good laws are the first step, but they can't work without robust outreach and, when it's necessary, enforcement," said Manhattan Borough President Gale A. Brewer. "When landlords scoff at the law and turn residential apartments into illegal hotel rentals, it's the city's job to act. I thank Director Klossner and the Office of Special Enforcement for going to court to return these units to the housing market."
"In the middle of an affordability crisis, every unit of affordable housing is vital, and represents the chance for a family to continue to call New York City home. So when an unscrupulous landlord uses illegal hotel activity through Airbnb and other sites to squeeze out rent-regulated tenants, the City must put a stop to it. I am grateful that OSE has been proactive in going after this and other problem landlords. Housing units should be used to make homes for real New Yorkers, not to line the pockets of landlords who flout the law," saidSenator Liz Krueger.
---
---
Senator Brad Hoylman said, "Illegal hotels endanger the affordability of our city. Here in my district, slumlords like Philip Baldeo use illegal hotels to force out long-time residents in the name of a quick buck. I'm grateful to Mayor de Blasio and the Office of Special Enforcement for cracking down on landlords like Baldeo, sending a message that we will not allow property owners to run roughshod over our laws and our neighborhoods."
"Building owners who allow their buildings to be used illegally for short-term rentals are breaking the law, placing their legitimate tenants at risk, and depriving New Yorkers of affordable housing. The Mayor's Office of Special Enforcement is sending a powerful message that it will prosecute landlords who violated laws on illegal hotels," said Assembly Member Richard N. Gottfried, who was the author of the 2010 amendments to the Multiple Dwelling Law addressing the outlawing illegal hotels issue.
"I am so pleased that the Office of Special Enforcement continues to pursue illegal housing rentals throughout the City. Protecting our rental housing stock for New Yorkers is a vital endeavor," said Assembly Member Deborah J. Glick.
"Yet another half dozen rent-regulated units lost to the scourge of illegal hotels in New York. Every single unit lost represents a hardworking family, a single mother, a senior living on a low, fixed income or student who will no longer be able to afford to stay in their homes, their neighborhoods, and increasingly, their City. I applaud the City for aggressively enforcing the law against criminals who prioritize their bottom lines over everyday New Yorkers just looking for a place to live," said Assembly Member Linda B. Rosenthal.
"Today the Office of Special Enforcement is acting decisively to stop illegal short term renting at a building on West 15th Street, where six of its nine rent stabilized units appear to be no longer stabilized. The OSE's work to protect our rental housing stock from illegal conversion is of critical importance as this city undergoes a housing affordability crisis. Their lawsuit is yet another example of the innovative and effective actions they have taken under the leadership of Mayor de Blasio and Executive Director Klossner to stop large-scale illegal hotels from operating with impunity. These precedent-setting actions will help us to turn the tide on illegal hotels," said Council Member Helen Rosenthal.
"Predatory practices designed to victimize New Yorkers are abhorrent, and we as a city must do all that we can to combat this. Fighting this greed, and the unlawful practices it spurs, means going directly at the bank accounts of those responsible, and this lawsuit is an essential move to protect those who are being disadvantaged in order for the owners and operators of the building to make a quick buck. As a member of the Illegal Hotel Working Group, I applaud the Office of Special Enforcement for taking this step to curb unlawful rentals which occupy space that could be used to address the affordable housing and homelessness crisis we face in our city," said Council Member Jumaane Williams.
"Housing Conservation Coordinators has been fighting against the proliferation of illegal hotels since 2004," said Jonathan Furlong, Director of Organizing for Housing Conservation Coordinators. "HCC is pleased that the city has taken this particular action, as it sends a clear message to all building owners and operators who are depleting the stock of rent regulated housing in our neighborhoods and communities."
"Misuse of Airbnb as illegal hotels has put residents of Petrosino Square at health and safety risk, it has undermined our quality of life, it has torn the fabric of our community, and with the collusion of unscrupulous landlords, it has deregulated our affordable housing. We commend the OSE for taking strong action to restore to moderate-income New Yorkers the purloined rent-stabilized units at 156 W. 15th Street," said Georgette Fleischer, President, Friends of Petrosino Square.
"In New York there are renting families who've never heard of Airbnb who now pay $800 more rent because of Airbnb," said Kathleen Treat, Chair of Hell's Kitchen Neighborhood Association. "This reprehensible state of affairs subtracts affordable housing at a time of desperate need."
Tom Cayler, the West Side Neighborhood Alliance (WSNA), said, "WSNA applauds the City's ongoing efforts to eradicate illegal hotels. Every affordable housing unit taken off the market and used by illegal operators, looking to turn a big profit, compromises New Yorkers' ability to live, work and raise their families in NYC."
Related Articles