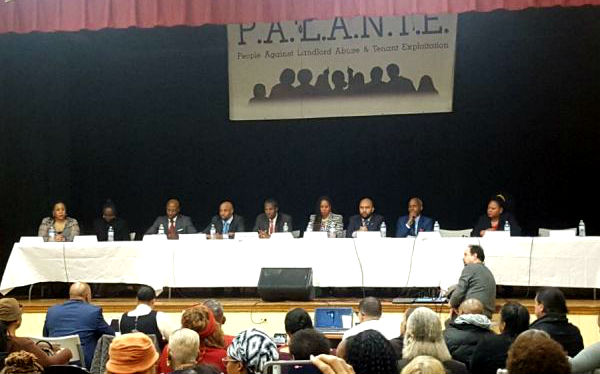 Update: In a low-turnout affair State Senator Bill Perkins was declared victorious in a special election to fill the City Council seat vacated by Inez Dickens. Perkins will serve the 9th City Council District, which spans much of Central Harlem and portions of West and East Harlem.
But victory may be short-lived.
With City Council elections coming up this year, Perkins will be back on the ballot this fall, most likely defending his new seat against many of the same challengers he defeated today. Tuesday's special election drew a crowded field, with nine candidates on the ballot.
As is customary in special elections turnout was especially low Tuesday. Just more than 11,000 people voted in the special election, according to unofficial results tabulated by the New York City Board of Elections. Perkins captured about a third of the vote, beating runner up Marvin Holland by about 1,700 total votes.
Here are the election results with 97.85 percent of the vote reported, according to the NYC Board of Elections:
Bill Perkins 3750/33.64 percent
Marvin Holland 2073 votes/18.59 percent
Dawn Simmons: 534 votes/4.79 percent
Athena Moore: 1682 votes/15.09 percent
Cordell Cleare: 1068 votes/9.58 percent
Larry Scott Blackmon: 1324/11.88 percent
Charles Cooper: 340/3.05 percent
Todd Stevens: 182/1.63 percent
Caprice A Alves: 168/1.51 percent
Write-in: 28
"I'm very happy. It's great to be able to go back to the City Council and be able to serve the people of the city of New York," Perkins said Tuesday night, as reported by New York 1.
Original Article:
Harlem, NY — Polls will open across Harlem at 6 a.m. Tuesday as voters elect a representative to fill the currently empty 9th City Council seat. The seat has been sitting vacant since former City Councilwoman Inez Dickens reported to her new post in Albany after winning a seat in the New York State Assembly in November. For more coverage of the special election, Harlem politics and other local news sign up for Patch's free newsletter and news alerts.
Vying for the seat are nine candidates from a variety of political backgrounds — some new and some familiar to Harlem voters.
The candidates on the ballot are:
Professor and writer Caprice Alves on the "Educated Leader" party line;
Former political operative Cordell Cleare on the "Time to Wake Up" party line;
Former Community Board 9 vice-chair Charles Cooper on the "Building Harlem" party line;
Legislative Director for TWU Local 100 Marvin Holland on the "Holland4Harlem" party line;
Director of Manhattan Borough President's District Office Athena Moore on the "We are One" party line;
State Senator Bill Perkins on the "Community First" party line;
FreshDirect Executive Larry Scott Blackmon on the "Harlem Families" party line;
Former teacher Dawn Simmons on the "Dawn for Harlem" and "Rent Too Damn High" party line;
Real Estate Broker Todd Stevens on the "Harlem Voices" party line;
Whoever wins the special election won't have long to enjoy their victory, as they will have to quickly defend their new seat during City Council elections this fall.
Here are some answers to questions you may have about the special election Tuesday in Harlem:

Can you vote?
If Inez Dickens was your City Council representative then you should hit the polls. Anyone living within the confines of the City Council's 9th District and is already registered to vote can cast a ballot Tuesday. Check out this website to find your polling site.
The deadline to submit absentee ballots by mail has passed. If you want to vote via absentee ballot you will have to submit it in person at your polling site.
What do the party names mean?
Due to Board of Election's rules special elections are non-partisan affairs, meaning it's not the tradition Democratic versus Republican party election that we're used to seeing everywhere in the United States. Because candidates are not allowed to run on the major party lines they are simply tasked with creating their own party names when registering for inclusion on the ballot.
It's a tricky process and one that was debated heavily this year. Candidate Larry Scott Blackmon was almost booted from the ballot this year because his party "Harlem Families" may mislead some voters into thinking he has the support of the Working Families Party.
Due to the fact that the election is non-partisan several of the candidates follow similar political ideologies. Most candidates would self-identify as a "Democrat" except for Dawn Simmons, who has the backing of the Manhattan Republican Party.
How long does the winner serve?
The winner of Tuesday's special election will be back in action defending their seat this year. A normal election — traditional party primaries followed by a general election — will be held for the 9th District seat this upcoming fall.
Via source
Related Articles
---
VIDEO
---
"We re-imagine, recreate, and redeem cultural omissions and misrepresentations of Blackness, for the culture. ...." This post is made in partnership with British Pathé.