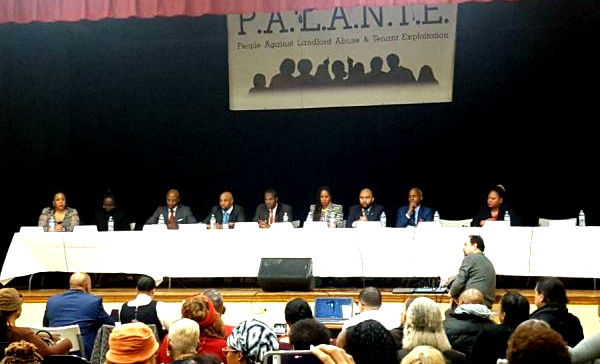 Nine of the 12 candidates vying for the Harlem City Council seat vacated by Inez Dickens made their pitches to Harlem voters Tuesday night at a well-attended debate focused on housing policy.
Tuesday night's debate was organized by Harlem nonprofit People Against Landlord Abuse and Tenant Exploitation (PALANTE) and every candidate running in the special election — to be held Febuary 14th, 2017 — was invited. During the debate most of the candidates seemed to be on the same page when it came to questions of housing policy, but were at odds on who was best suited to solve the problems facing Harlem.
Candidates discussed housing issues such as how to allocate funding from city departments to repair neglected and vacant housing units in the Tenant Interim Lease Program (TIL), expanding a city program to provide lawyers for low-income residents facing eviction to also cover middle class residents and building housing units that are truly affordable for the neighborhood.
The candidates at the debate were in favor of allocating more money to TIL and expanding the city assistance program. At one point State Senator Bill Perkins said that the candidates were "essentially all saying the same thing."
While the candidates found common ground on policy, the debate's few heated moment came when candidates were given the opportunity to ask one of their opponents a question.
Perkins — a longtime Harlem political player and former City Councilman — proved to be a common target. Dawn Simmons, a former teacher, got right to the point with the first question by asking Perkins why he wants to return to the City Council after leaving the neighborhood for a State Senate position in Albany. The question sparked an ovation from the crowd.
Charles Cooper, former vice chair of Community Board 9, was even more confrontational. Cooper assigned blame to the "good old Senator" Perkins and establishment politicians who were in office while rents skyrocketed in Harlem.
"Senator Perkins has been in some type of elected office for over two decades now. Rent in Harlem has increased over 90 percent in the last decade underneath his watch," Cooper said. "My question is can we trust that this time around he will do anything different or can we expect another 90 percent increase."
Perkins shot back that Cooper had misrepresented his record and that during his time in office he has been at the forefront of tenants rights movements.
Another tense exchange occurred between Marvin Holland, political director of TWU local 100, and Athena Moore an aide to Manhattan Borough President Gale Brewer. Moore first questioned Holland on how he would handle his union ties, to which Holland replied he was an "unapologetic union man."
Holland then asked a simple, yet biting question of Moore: where she lives and how long she's lived there.
The question was an attempt to frame Moore, a native of the South Bronx as an outsider in Harlem. Moore admitted that she just recently moved into the neighborhood but had longstanding roots in Harlem via family ties and her work in the 125th Street office of the Manhattan Borough President.
---
The debate was moderated by Errol Louis of New York 1 and Elinor Tatum of the Amsterdam News.
Twelve candidates have declared their intentions to run in the Feb. 14th special election to replace Inez Dickens in the City Council's Ninth District, according to the New York City Campaign Finance Board. Mayor Bill de Blasio announced on Jan. 3 that a special election would be held to replace Dickens after her election to the New York State Assembly. The winner of the special election will serve the district — which spans a portion of Central Harlem — until the end of 2017.
Photo and text via source
Related Articles