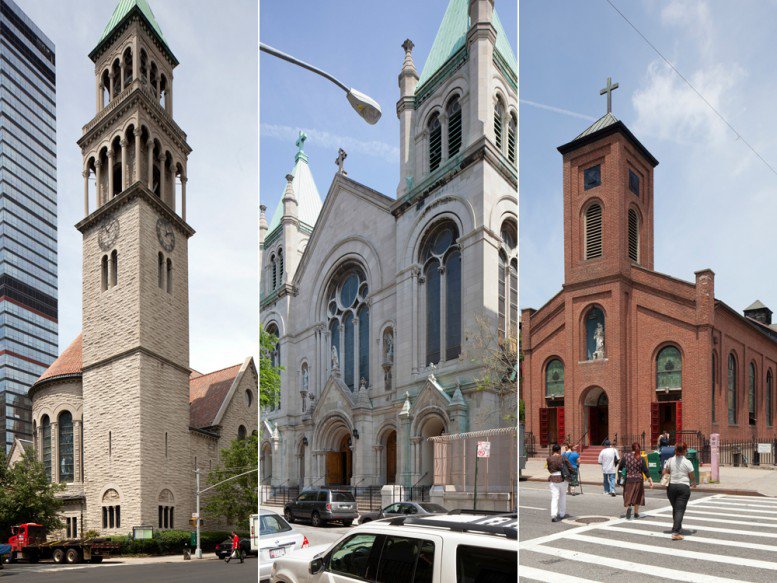 A number of religious institutions were considered for landmark designation at a public hearing held by the Landmarks Preservation Commission last Thursday. It was the commission's final public hearing – and second for Manhattan properties – in its effort to clear its backlog of 95 properties calendared for consideration prior to 2010. The three churches are located on the Upper West Side, in Harlem, and in East Harlem reports New York Yimpy.
For geography's sake, we'll start with the one on the Upper West Side. That is St. Michael's Episcopal Church, Parish House, & Rectory at 227 West 99th Street, on the northwest corner of Amsterdam Avenue. The church was built between 1890 and 1891, the parish house between 1896 and 1897, and the rectory between 1912 and 1913. Public hearings were last held for it on May 13, 1980; July 8, 1980; and March 18, 2008.
Support for designation was mixed. Unsurprisingly, Rev. Katharine Flexer, the church's rector, was not for designation of the entire complex. She did, however support designation of the church itself. That sentiment was echoed by the church's archivist, who called it a "rare and important building," noted that it was the third church on the site, and asked the commission to "honor its identity as a visible link to the past."
City Council Member Mark Levine was fully supportive of designation, calling the complex "distinctive." He praised the "stylistic cohesion" present despite the nearly quarter of a century it took to complete the complex.
Sean Khorsandi of the Upper West Side advocacy group Landmark West! called it "one of New York's most remarkable architectural ensembles."
The Historic Districts Council's Barbara Zay noted that, along with the music hall at Sailors' Snug Harbor on Staten Island, the buildings within the St. Michael's complex are architect William Gibon's only New York City works not under Landmarks protection. "The complex is remarkably intact and striking in its materials and monumental scale. HDC finds it to be entirely worthy of landmark status to ensure that it remains not only a spiritual anchor on the Upper West Side, but an architectural one, as well," she said.
A representative of Columbia University historic preservation professor Andrew Dolkart called St. Michael's "one of the most important church designs in New York City from the late 19th Century."
A parishioner also supported designation, but wanted any reference to the Tiffany windows, which he said are only visible from the interior, removed from any designation report.
Manhattan Borough President Gale Brewer and the New York Landmarks Conservancy also endorsed designation.
The other two churches are Catholic.
St. Paul's Church and School and St. Paul's Rectory are located in East Harlem at 121 East 117th Street and 113 East 117th Street respectively. They were both designed by Neville & Bagge in 1906. Public hearings were last held for them on June 14, 1966.
St. Joseph's Church is located 401-403 West 125th Street in Harlem. It was designed by the Herter Brothers in 1889. Like the St. Paul's complex, a hearing was last held on June 14, 1966.
---
---
"These buildings form an impressive complex on this block in East Harlem, a neighborhood sorely lacking landmark buildings. HDC selected East Harlem as one of its 2015 Six to Celebrate neighborhoods in order to promote and celebrate its many architectural gems, as well as its overall historic and cultural contributions to the city," the Historic District's Council's Barbara Zay said of St. Paul's Church. "We are glad to enthusiastically support the designation of these well-loved buildings."
Brewer, the New York Landmarks Conservancy, the Victorian Society, and Explore New York also endorsed designation.
HDC's Kelly Carroll noted that St. Joseph's Church has served various populations over the years, but was originally built for a German-American population. "This Harlem landmark is an oasis on 125thStreet, adorned in red brick with an equally handsome parish house, on a large lot of greenery. Across and down the street, 10- and 20-story buildings loom, as Harlem's 125th Street corridor continues to grow vertically," she said. "This is one of the oldest buildings in Harlem, and it is the oldest church in Manhattan north of 44th Street. It is impressive that it is still with us today, and we urge you to preserve this little corner of old Harlem."
Designation of St. Joseph's also has the support of the Brewer, and the New York Landmarks Conservancy.
Not surprisingly, Joseph Rosenberg, executive director of the Catholic Community Relations Council of New York, testified against designation of the churches. Churches usually don't want themselves landmarked. He said designation of either church would be a "serious burden that infringes on the ministry of the church."
Staying slightly on the topic of religion, the Harlem YMCA at 181 West 135th Street was also considered. The neo-Renaissance building was designed by John Jackson in 1918. A public hearing was last held on July 15, 1991.
The only piece of public testimony was a nod of support from HDC's Susan Harper. "The YMCA, whose mission it is to serve its community, would be good to invest in its past to protect its people's legacy and enrich generations of the future," she said.
If this is the first story you're reading about the LPC backlog, you might not know what happens next. The commission will hold public meetings, at which time it will consider either prioritizing designation for some items by December 2016, removing items from the calendar by voting not to designate, or removing items from the calendar by issuing a no action letter.
Related Articles