---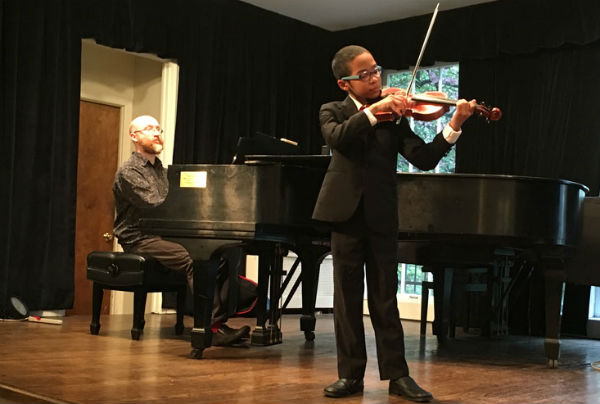 The InterSchool Orchestras of New York (ISO) is helping children from Harlem learn to play classical music. Harlem children like Herbie are afforded the opportunity to study classical music thanks to ISO's tiered system and concert opportunities.
"ISO ensures that no child is denied the opportunity to learn classical musical," said Karen Geer, Executive Director of InterSchool Orchestras of New York. "ISO provides nearly $250,000 each year in scholarships and financial aid, ensuring accessibility for all children who wish to explore ensemble playing."
InterSchool Orchestras of New York (ISO) is the only orchestral experience in the New York City area for elementary, middle and high school students that systematically move young musicians through a graded program from the very beginning level to a pre-professional experience. ISO, through its sliding-scale tuition, school programs, programs for accessibility and collaboration with other music education organizations, provides numerous opportunities for traditionally underserved students to become competent musicians and receive a complete music education. An added benefit of the experience is the fact that ISO creates a diverse musical community that provides its young musicians, who come from a wide range of backgrounds and neighborhoods, with a peer support structure over a seven – to eight-year period in the company of professional musicians and music educators who serve as mentors and guides.
Herbie, from Harlem, attends LaGuardia High School. He has been a member of ISO for over four years, and is currently a part of the ISO Symphony. Herbie is a violinist and has been playing the violin for almost 10 years. One of the reasons he likes ISO is that the experience of performing and rehearsing with his musical peers is fun and educational, and he would like to continue performing when he is older. Herbie wants to be a surgeon when he grows up, and is inspired by the book "From Scales to Scalpels," about a group of surgeons and other doctors involved in a symphony orchestra.
Founded in 1972 and incorporated in 1974, the InterSchool Orchestras of New York (ISO) began with a single orchestra of 20 children. Today, ISO serves more than 350 children, creating opportunities for school-aged children in New York City to make music together through seven orchestras and a symphonic band. ISO provides a nurturing environment where all children can realize their personal best, achieve high artistic standards, and share music with the community. The ensembles perform in major concert halls, schools and community centers, bringing great music to over 7,000 people annually. Generous financial aid and scholarships ensure that every child can participate.
For more information, please visit http://isorch.org/
---