---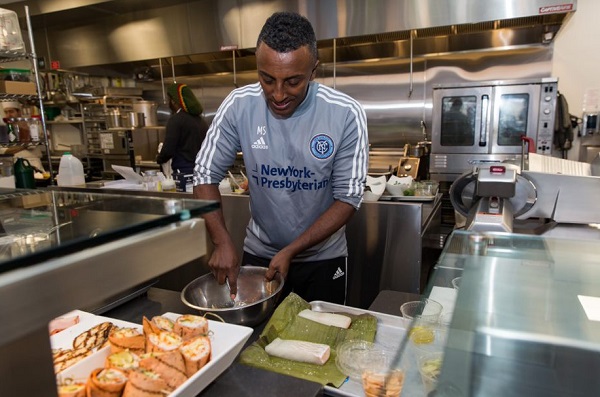 New York City FC has today named celebrity chef Marcus Samuelsson the Club's first-ever Chief Culinary Coach. A soccer fan since childhood – and a NYCFC fan since the Club's inaugural season – the new collaboration will see Chef Samuelsson take up an official ambassador role with the Club that includes working with the first team and collaborating on community events in the five boroughs.
To officially announce the partnership, Chef Samuelsson attended a NYCFC first team training session where he discussed tactics with Sporting Director and long-time friend, Claudio Reyna, joined in team drills and played a fun game of soccer tennis with players Anton Tinnerholm, Ben Sweat and Sebastien Ibeagha. Following the training session, Marcus led the players in a healthy cooking class and demonstration where they learned to make three recipes Marcus specifically created for the NYCFC players. Unveiled today, Marcus' signature NYCFC mains – Striker's Choice (Vietnamese Steamed Halibut, Miso, Lemongrass) and The Panenka (Chicken Breast, Apricot Glaze, Soy) – and two Off-Side dishes (Tabbouleh and Citrus-Mint Veggie Slaw) will be included in the first team's monthly menu rotation.
[irp]
This season, the partnership will see NYCFC and Marcus Samuelsson Group come together on a number of community events including this May's fifth annual Harlem EatUp!, youth-oriented soccer tournaments, and healthy cooking classes for local kids and teens as part of NYCFC's ongoing community work. To celebrate the world's game and NYCFC's international roster, Marcus will be collaborating with NYCFC players to create new dishes that reflect their home country to be served simultaneously at the Red Rooster in Harlem. Finally, Marcus will have a presence at NYCFC games hosting community members and local youth – including those from City in the Community (CITC), the charity proudly supported by NYCFC.
The new partnership builds off the success NYCFC and Marcus Samuelsson Group have had working together on past initiatives – including CITC's Healthy Hat-Trick, an educational curriculum that uses soccer to teach and encourage children to lead a healthy lifestyle through exercise, eating a balanced diet and setting goals.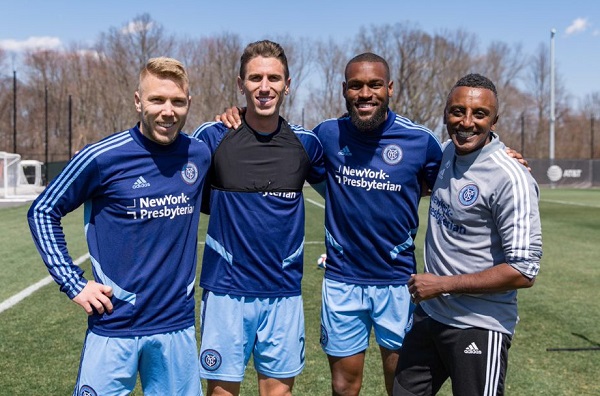 To kick off the 2019 season, the Club hosted its second annual Homecoming event at Marcus' iconic Red Rooster restaurant in Harlem to raise funds for CITC. All proceeds raised at the Homecoming event will go directly toward increasing access to soccer for underserved youth throughout the five boroughs. In advance of the home opener, Chef Samuelsson also joined in the Club's 24-Hour Game. He helped lead Team Ring to victory and surprised hungry players and fans on the iconic Rockefeller Center Plaza with his own take on chicken buckets, inspired by the fan-favorite menu item served at NYCFC games.
NYCFC CEO, Brad Sims, said:
"We are excited to have Marcus Samuelsson become an official member of the Club as our new Chief Culinary Coach. Since making Harlem his adopted hometown, Marcus has become part of the fabric of New York City and we are honored he chose the only soccer team in NYC as his home team."
NYCFC Sporting Director, Claudio Reyna, continued:
"I can't think of someone better to collaborate with than my good friend Marcus Samuelsson. His restaurants have become community hubs like our community soccer pitches. It's incredible to see how both food and soccer can bring people together.
"We are proud to team up with someone that shares our values and is equally committed to creating even more opportunities for the inner-city youth here in NYC through soccer and by education around healthy lifestyles."
NYCFC Director of Community Development, Paul Jeffries, discussed the impact the community impact of the partnership:
"There is no better partner to demonstrate the commitment to giving back than Marcus Samuelsson. Because Marcus generously hosted our Homecoming event, City in the Community (CITC) was able to raise critical funds to help us continue providing free soccer programming to over 5,000 young New Yorkers each year. His passion is contagious, and his partnership will help our Club continue bringing our communities together through the joy of good food and beautiful soccer."
Marcus Samuelsson also shared his thoughts on the new role:
"As a kid growing up who was set on becoming a professional soccer player one day, I couldn't be more happy to become a part of this exciting team even if it's not as their starting striker! What I love about soccer is that it's truly global and accessible to everyone, and I appreciate NYCFC's commitment to growing an inclusive and passionate fan base in our city. Like with food, I think it can be a vehicle to unite us all regardless of our differences. I've been specifically impressed with NYCFC's commitment to our Harlem community with their New York City Soccer Initiative, having seen first-hand the benefits of the mini-pitches. I look forward to taking a few breaks from the restaurant to help get the next generation out playing no matter where they live in the city."
New York City Football Club
New York City Football Club is an American professional soccer team based in New York City that competes in Major League Soccer (MLS) in the Eastern Conference of the league. It was announced as the League's 20th franchise on May 21, 2013 and is the first and only MLS Club located within the five boroughs of New York City. Majority owned by City Football Group (CFG), New York City FC plays its home games at Yankee Stadium, which is also home to minority owner, the New York Yankees.
Marcus Samuelsson
Marcus Samuelsson is the acclaimed chef behind many restaurants worldwide including Red Rooster
Harlem, Marcus' Bermuda, and Marcus B&P in Newark, NJ. Samuelsson was the youngest person to ever receive a three-star review from The New York Times and has won multiple James Beard Foundation Awards including Best Chef: New York City. He was tasked with planning and executing the Obama Administration's first State dinner honoring Indian Prime Minister Manmohan Singh. Samuelsson was also crowned champion of television shows Top Chef Masters and Chopped All Stars, and was the winning mentor on ABC's The Taste. Samuelsson's TV series titled No Passport Required with VOX/Eater and PBS has been renewed for a second season, which is scheduled to air Fall 2019 and is an executive producer of Viceland's show HUSTLE. He currently serves as Executive Chef-in-Residence of Buzzfeed Tasty's newly launched talent program.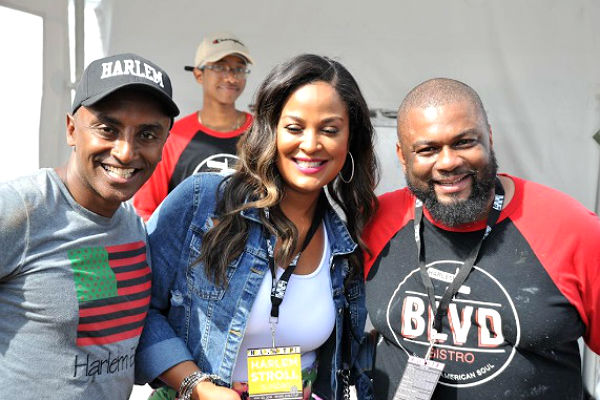 A committed philanthropist, Samuelsson is co-chair of Careers through Culinary Arts Program (C-CAP) which focuses on underserved youth. Samuelsson also co-produces the annual week-long festival Harlem EatUp!, which will be celebrating the food, art, and culture of Harlem for the fifth year this May. He is the recipient of the 2019 Vilcek Foundation Prize in Culinary Arts, awarded to immigrants who have made lasting contributions to American Society. He is the author of multiple books including The New York Times bestselling memoir Yes, Chef and his latest book– The Red Rooster Cookbook: The Story of Food and Hustle in Harlem.
Recent restaurant openings include: Red Rooster Shoreditch in East London; Norda Oslo in Norway; and Streetbird Express at the world-famous Madison Square Garden. He announced the opening of his newest restaurant, Marcus, coming to Montreal in Spring 2019.
[irp]
Marcus is also the founder of the Marcus Samuelsson Group (MSG), which works to maintain Samuelsson's culinary and cultural pillars, creating outstanding experiences that celebrate food, music, culture, and art in all its endeavors from high-end restaurants and fast-casual cafes to media and experiential events. Follow him on Instagram, Facebook, and Twitter at @MarcusCooks.
Photo credit: 1-2) New York City FC. 3) Harlem Eat-Up.
---