---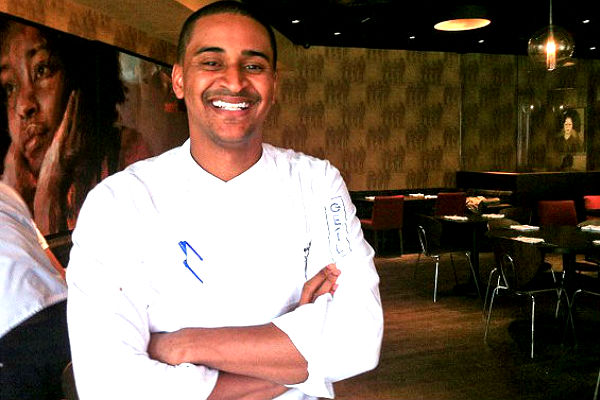 Acclaimed Harlem Chef JJ, with the help of Basketball Wives L.A. personality Kristen Scott.
They continue to dish out gourmet recipes in this week's episode of Just Eats With Chef JJ airing on Saturday, February 6, 2021, at 9 P.M. ET/8C.
This week, Chef JJ serves up a light and fit meal with a delicate salad with super greens tossed in a Warm Mustard Seed and Spicy Chili Vinaigrette dressing.
Never leaving viewers wanting, Chef JJ prepares a Creamed Coconut Corn with Lobster Tail. The Chef pairs the meal with a "JJ Tini" infused with Blood Orange, Vodka, and Orange Bitters.
Tune in this season as Chef JJ welcomes an incredible line-up of special guest stars including LA Basketball Wives Reality TV Star Kristen Scott, Restaurateur sisters Juliet and Justine Masters, Author Aliya S. King, Rapper Slim Thug, Chef Esther Choi, couple and EatOkra app Co-Founders Anthony and Janique Edwards, Fashion Journalist Danielle James, Slutty Vegan Founder Pinky Cole, BMX Champ Nigel Sylvester, Music Producer Rico Love and his protégé Mia Ariannaa. Tune in for more special guest influencers and fun, flavorful eats all season!
Just Eats With Chef JJ is produced by Powerhouse Productions, with Rochelle Brown and Sonia Armstead serving as Executive Producers.
Jason Ryan is the Executive Producer in Charge of Production for TV One; Donyell McCullough is Senior Director of Talent & Casting and Robyn Green Arrington is Vice President of Original Programming and Production.
For more information about CLEO TV visit www.mycleo.tv and check out CLEO TV YouTube Channel.
Viewers can also join the conversation by connecting via social media on Twitter, Instagram, Pinterest, and Facebook (@mycleotv) using the hashtag #JUSTEATSWITHCHEFJJ and #CLEOTV.
---