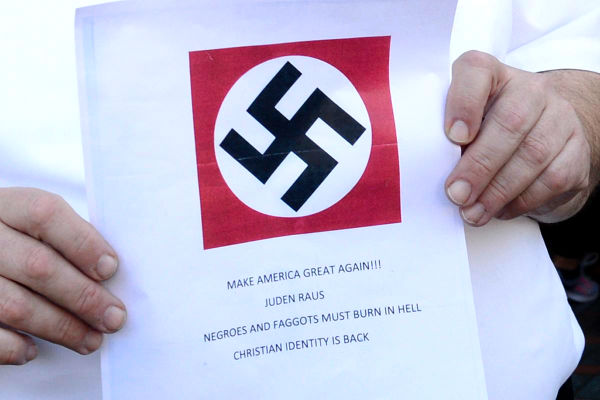 The Daily News reports that an anonymous hate mail filled with slurs and emblazoned with an oversized swastika was mailed to nine city businesses, prompting an NYPD investigation, police said Wednesday.
The letters arrived this week at spots in Brooklyn and Manhattan, including three law firms, an international financial firm, a jewelry store, a Starbucks, a kosher meat market and a bakery.
Each message was identical, typed all in capital letters, according to law enforcement sources.
The words "MAKE AMERICA GREAT AGAIN!!!" appear beneath a large swastika. The unknown sender refers to a Nazi board game called "Juden Raus," and calls for African-Americans and homosexuals to "burn in hell."
The letter ends "CHRISTIAN IDENTITY IS BACK."
The investigation began after the owner of the targeted bakery, Abraham Weiss of Weiss Kosher Bakery on 13th Ave. in Borough Park, contacted the district's assemblyman, who in turn called police.
"I don't think there's a place in this world for anti-Semitism and bigotry — just hating for no reason and sending such things," said Abraham Weiss, whose sister discovered the disturbing note and told him about it after he returned Tuesday from a trip.
"It's bothering. It's not a good feeling."
Law enforcement sources told the Daily News that the return addresses are connected to a location in Brighton Beach, Brooklyn.
Paul Freund, assistant manager for Satmar Meat & Poultry Market on Utrecht Ave., which is around the corner from the bakery, said he received the same letter on Monday.
"To me, in 2017, you're not supposed to get a letter like this," said Freund. "It's a shame."
The Manhattan locations include the Israeli Economic Mission in NYC on Second Ave., a Starbucks on W. 145th St., the Harlem Business Alliance on Lenox Ave. and Numero Uno Jewelry store on W. 16th St. Three law firms within walking distance of each other in Sheepshead Bay also were targeted.
---
---
Police are working to track down the sender and Acting Brooklyn District Attorney Eric Gonzalez's office is also investigating.
"We are aware of this and similar letters that have been sent. We are investigating and will not stand for these acts," Gonzalez announced from his Twitter account.
Related Articles