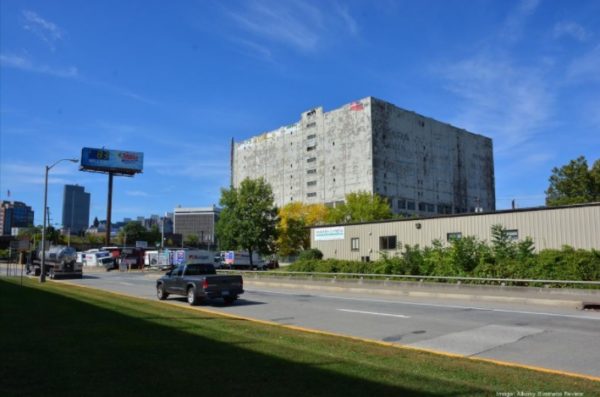 The Biz Journal reports that Evan Blum, owner of a Harlem architectural salvage business, paid $280,357 to purchase the 11-story Central Warehouse cold storage building just north of downtown Albany, New York.
Blum, 63, purchased the 515,512-square-foot building on Montgomery Street near Interstate 787 from Sunmark Federal Credit Union, which took possession of the property in 2011 from a group of investors who wanted to convert the building into offices, retail or residential units.
The sale of the property was completed last week, but the purchase price was not known until Wednesday, when the deed was filed with the Albany County clerk. Blum purchased the building through a real estate holding company called Phoenix of Albany LLC.
"We are just trying to develop something that is nice and sustainable," Blum said. "We want it to last."
Last week, Blum talked about the potential he sees in the rundown building that at one time was a significant piece of the supply chain for frozen food and dry goods sold at grocery stores in the Albany region. Rail cars used to pull into the building's second floor to unload food.
Over the years, the building became outdated and was abandoned. Today, it is better known for its exterior graffiti and broken windows.
Blum, who owns Demolition Depot & Irreplaceable Artifacts in Harlem, also transformed a former piano-key factory in Ivoryton, Connecticut, into a warehouse for architectural artifacts.
Blum told Albany Business Review that he has saved millions of cubic square yards of usable items from buildings — such as artwork, doors, balconies, light fixtures, columns, fireplace mantels and stained glass windows — that would have gone into landfills.
The items have been sold to hotels, restaurants, movie producers and home owners.
"I have a very large collection of things and I place them all over the world," he said last week. "I always have requests for space."
When Sunmark took control of the property six years ago, it owed $273,317 in back taxes, interest and penalties on the building dating to 2011, according to the Albany County Division of Finance, Management and Budget.
The credit union listed the building for sale in 2012 for for $950,000, and eventually dropped it to $199,900, or 39 cents per square foot.
Related articles
Related Articles
---