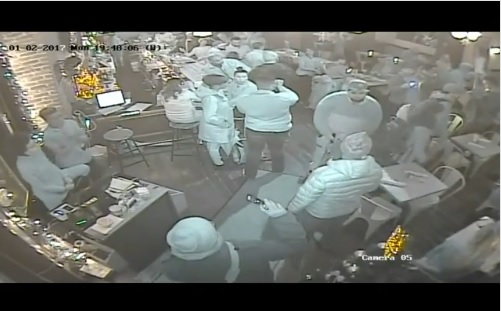 From The Harlem Merchants Association:
On Monday, January 2nd, 2017, People's Monday (#PeoplesMonday) is an activist initiative affiliated with NYC Shut It Down. Each Monday they march/protest in different locations throughout the city.  Most recently they started to meet up on 116th street and Lenox Ave (in Harlem).
Their goal is to build awareness of racial injustice, especially with regard to extrajudicial killings by law enforcement and police brutality. Each week they identify and highlight a specific victim and march with signs that have facts about that victim.
Here are their social links:
Facebook: https://www.facebook.com/nycshutitdown/about/
Website: http://www.nycshutitdown.net/
Instagram: https://www.instagram.com/nyc_shutitdown/
Twitter: https://twitter.com/nyc_shutitdown
Corner Social is owned and operated by a Latina woman.  She is a single mother who has resided in Harlem for the past seven years.  Corner Social, which opened in March of 2012, has employed hundreds of Harlem residents over the years.  Presently, it employs more than 70 African Americans and Latinos, the vast majority of whom are Harlem residents.  As a business Corner Social has not only been a major investor and employer in this neighborhood, but has always been a platform for community members to showcase art, political views, social activism, and much more.  Through direct participation, fundraising and philanthropy, Corner Social is and has been deeply committed to various local organizations such as Harlem Children Zone, Harlem Grown, Harlem Village Academy, Harlem Hospital, among others.
On Monday night, January 2nd  #PeoplesMonday gathered at the corner of 116th Street and Lenox Avenue.  From there they walked the streets of Harlem protesting while trying, unsuccessfully, to enter local eating establishments like Red Rooster, Street Bird and Chez Lucienne.
At approximately 7:30 pm, the group successfully entered Corner Social, en masse, without authorization. Once inside, they began loudly chanting, disrupting our patrons and staff.  Their presence and manner of protest made all inside feel unsafe.
Numerous times they were asked to leave. They refused and instead became increasingly aggressive, with certain members using racially charged language with our African American staff.
While inside certain members stole silverware and candle holders from the tables.  This is clearly shown in our surveillance video.
As a last resort, and with no peaceful means of removing the group, our staff was forced to call the police.
The "Peoples Monday" group did not have the right to come into our business
The "Peoples Monday" group refused to leave the business after numerous requests to do so
The "Peoples Monday" verbally abuse our staff members and disrupted our patrons
At least two of the members from the "Peoples Monday" group were caught on camera stealing private property -See the attached Video
Corner Social statement:
We love our community.  We do not support or condone racial discrimination or injustice in any form.  We believe in free speech, the right to protest and the right to be heard.  We have a proven record of supporting organizations and movements that strive for social and economic justice, including #blacklivesmatter, and indeed the fundamental principles the underlie #PeoplesModay.  The tactics Monday night, however, went beyond the boundaries of peaceful protest.  We do not believe trespassing, stealing, and intimidation are core values we all can share, nor do we believe they productive means to affect social change.  To be clear, #peoplesmonday and its mission are admirable.  Their actions in Harlem this past Monday evening were not.
If you have had any incidents like this one, please contact us via email at ehmanyc@gmail.com.
Via Harlem Merchants
Related Articles
---
---