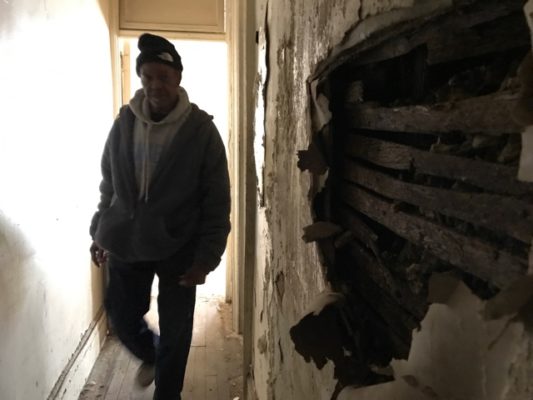 The floorboards of the apartments at 161 West 140th Street cracked below my feet and I was told many times to watch my step because they were considered unstable. A few more steps in and I was hit with the smell of black mold. It was everywhere, dark splotches caked on the walls and spread up to the ceiling, sending vein-like patterns criss-crossed throughout the apartment.
"It's like deadly art," said Elsia Vasquez, executive director of PA'LANTE Harlem, a housing rights organization, as we toured the building, which is home to about 100 tenants.
A few doors down, a family of six is living. Like the other tenants here at 161 West 140th Street, they've had to endure the mold, infestations of rats and bedbugs, and, at times, no heat.
This sounds like another story of a New York slumlord. But it isn't. This building isn't owned by a rapacious developer, but by the city. It was purchased by the Department of Finance in 1978 after its owner fell into arrears on property taxes. The department bought up more than 100,000 such buildings in the late 1970s and early '80s as part of the Tenant Interim Lease [TIL] program, which sought to give low-income tenants the opportunity to collectively own their buildings. Under the program, tenants in a building would form a tenants' association, which would collect rent and spend money on basic upkeep. After a period of two years, the building would become a cooperative, and tenants who put down $250 would become shareholders.
The program is still in operation, although the down payment requirement was increased in recent years to $2,500, and those who buy in now must also pay a share of back taxes owed.
Tenants at 161 have dreamed of owning their building for decades. But while they have put more than 30 years of sweat equity into the building, they say, they have been unable to take ownership of it. Their building is one of dozens of TIL buildings that the city has yet to turn over to the original tenants, long after the designated two year vesting period has come and gone.
It's unclear why the city hasn't handed over the keys to 161 and the Department of Preservation, and Housing Development would not offer an answer on when the building might be turned over.
Meanwhile, the building is emptying out. HPD does not allow TIL associations to rent out empty apartments, so as tenants move or pass away, their units go unfilled.
At 161 West 140th Street, 22 out of 62 units are currently vacant. These empty apartments represent thousands of dollars of lost income for the building each month. That's money that could be spent on essential repairs.
Shanell Carter and her son moved in with Carter's grandmother at 161 in 2014, after a fire destroyed their apartment in the Bronx. She said that in January 2015, the boiler gave out and left residents in the cold. "We were without heat for nearly a month," she said.
Carter walked me through her apartment, pointing to piles of rat droppings and commercial-sized bags of the bed bug insecticide she has smeared on her bedroom walls.
"Every time we want to do something, we have to get clearance from HPD… but we end up having to pay for things ourselves," she told me, adding that she's had to pay out of pocket to treat the infestations—a cost that would normally be borne by the landlord.
---
---
Residents blame a leaky roof for the proliferation of black mold, which is associated with a host of respiratory issues.
Rahdia Small, a mother of four and a tenant at 161, said that the cost of renovations, mold abatement, and a new boiler would run into the hundreds of thousands of dollars for the building. In a converted TIL building, the city would cover these and other capital improvement costs. But in this current state of limbo, the tenants are on their own. Recently, tenants told me, the boiler broke again, forcing them to go without hot water or heat for almost two weeks.
An HPD spokesperson told Gothamist the agency is aware of the mold problem and the leaky roof, and that these issues are being addressed.
"HPD's priority is resident safety," she said. "Repairs are being made to occupied apartments and vacant apartments alike." The spokesperson said HPD will fund "extensive repairs" that cannot be covered by the income currently being collected by the tenants' association.
Related Articles
VIDEO
---
Harlem Cultural Archives is a donor and foundation-supported Historical Society, Its mission is to create, maintain and grow a remotely accessible, online, interactive repository of audio-visual materials documenting Harlem's remarkable and varied multicultural legacies, including its storied past as well as its continuing contributions to the City and State of New York, the nation, and the world.
Support Harlem Cultural Archives
and
click here to get more Harlem History
, Thank you.