---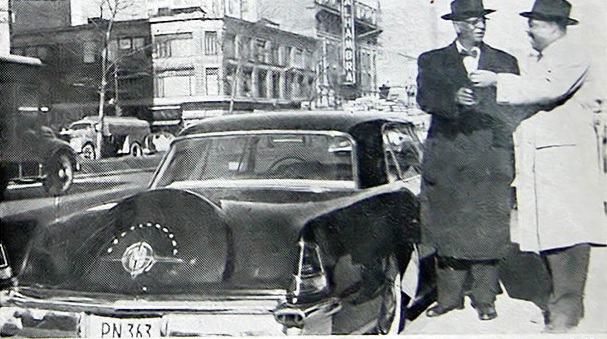 A great photograph taken looking towards 125th Street on Adam Clayton Powell Blvd (7th Avenue), with the Alhambra across the street in Jet Magazine, February 7th, 1956.
The article reads:
receiving car keys from automobile salesman Dan Brown (r.) Bishop R. C. Lawson, pastor Harlem's Refuge Church of Christ, becomes owner of the first Mark II sold in New York. He paid $9,950 cash for the car.
The 1958 Lincoln Continental was the biggest luxury car in America built between 1958 and 1960. A image documenting a man with enough money to buy a luxury car for cash, a piece of Harlem history from the pages of a great historical publication.
The Refuge Temple in Harlem was the hub of Lawson's evangelistic efforts in the Northeast, which ultimately grew into the Church of Our Lord Jesus Christ, or COOLJC. Lawson's field work took him up and down the East Coast, throughout the West Indies, and as far as West Africa, where Lawson appointed missionaries to carry on the church's spiritual work.
Lawson was a leading figure in an influential Pentecostal organization at a time when Pentecostal churches were rare. Lawson founded a chain of funeral homes, a seminary, a radio station, a magazine, and several businesses, among other endeavors.
Related Articles
---